Top 10 Fishing Locations
Cumberland Valley welcomes anglers of all skill levels and ages to enjoy the streams and lakes that make this a fishing destination. The Valley is known around the world for fly-fishing, which is why the top three spots are also our best spots for fly-fishing.
Discover what makes Carlisle a Trout Town in the article that appeared in American Fly Fishing magazine by clicking the link to the right.
Learn more about this sport and it's importance to the Valley.

 = Fishing     

 = Fly-Fishing     

 = Boating     

 = ADA Access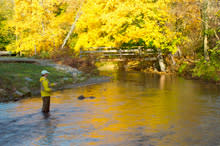 1.  YELLOW BREECHES - beloved by anglers of every skill level thanks to an abundance of trout and a mile-long catch-and-release section near Boiling Springs




Yellow Breeches Creek Water Trail Map & Guide provides boating and recreation info for approximately 22 miles of the creek including two float trips
ADA Accessible Fishing Piers: Available in Leidigh Park and Spanglers Mill 
Parking: 1559 Boiling Springs Rd, Boiling Springs 17007, Fisherman's parking lot located on left-hand side of driveway when entering property; reference two locations in Boiling Springs on Map #1 below;  Leidigh Park, 1526 Leidigh Dr, Boiling Springs 17007; Spanglers Mill, 1425 Spanglers Mill Rd, Camp Hill 17011; Stuart Park, 519 Pine Rd, Carlisle 17015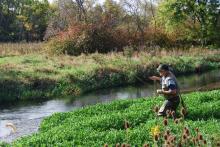 2. LETORT SPRINGS - copious reed beds and taxing currents make this spot a challenge, the wild brown trout here seem to be particularly wily



Handicapped Accessible: Fishing platform inside LeTort Park, Nature Trail is ADA accessible but not paved
Parking: Reference two locations on Map #2 below for Cumberland Valley Chapter Trout Unlimited Land; LeTort Park, 260 E. Pomfret St, Carlisle 17013; S. Spring Garden St, Carlisle 17013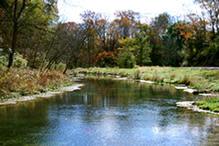 3. BIG SPRING CREEK GREENWAY - world famous limestone creek that flows through woodland and farmland before emptying into the Conodoguinet Creek


5th largest spring in Pennsylvania
Parking: Reference three locations on Map #3 below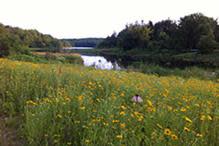 4. OPOSSUM LAKE - 59-acre lake stocked with rainbow trout



Three boating access points of which one has a surfaced launch ramp, boating is limited to boats powered by electric motors and un-powered boats
Handicapped Accessible: Path
ADA Accessible: Fishing dock
Species, including largemouth bass, bluegill, purebred muskellunge, black crappie and tiger muskellunge, are catch and release and must be immediately returned unharmed, special regulation will remain in effect until June 18, 2016
Parking: Open parking area at entrance on Opossum Lake Road
5. FULLER LAKE - located at Pine Grove Furnace State Park 

Common fish to be found include pickerel, bass, perch and stocked trout
Parking: Open parking area available near the lake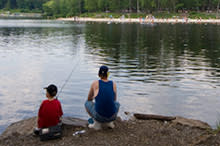 6. LAUREL LAKE - located at Pine Grove Furnace State Park


Boat launch, 85 mooring spaces and boat rentals available
Common fish to be found include pickerel, bass, perch and stocked trout 
Parking: Open parking area available near the lake
7. CONODOGUINET CREEK - fishing on the creek is accessible from 15 access points all located within parks spread throughout Cumberland Valley, click link for locations


Conodoguinet Creek Water Trail Map & Guide features access points along approximately 40 miles of the creek and outlines two float trips
Fish for smallmouth bass, rock bass, sunfish and stocked tiger muskellunge fingerlings
Parking: North Middleton Park, 1770 Waggoner's Gap Rd, Carlisle 17013; Willow Mill Park, 80 Willow Mill Park Rd, Mechanicsburg 17050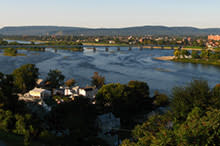 8. SUSQUEHANNA RIVER TRAIL - the river's fertile limestone water is one of the best small mouth bass fisheries in the East, view link for access points



Other fish include muskies, walleye, smallmouth bass, panfish, catfish and carp
Boating access points and boat rentals are available
Parking: West Fairview Point & Park, 50 Front St, West Fairview; City Island Parking Garage
9. DOUBLING GAP LAKE - located in Colonel Denning State Park


Stocked with trout
Fishing pier available for people with disabilities
Parking: Open parking area near the lake
 10. CHILDREN'S LAKE - spring-fed and stocked with trout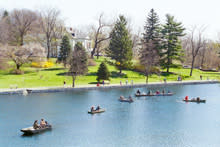 Fishing is permitted from a shallow-draft boat, electric-motored boat or canoe
Open to all ages for fishing
During the first month of trout season a section along the Appalachian Trail is open to children 12 and under only
Parking: Street parking around the lake, parking lot near the back of the lake by the furnace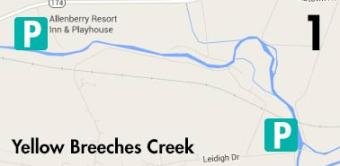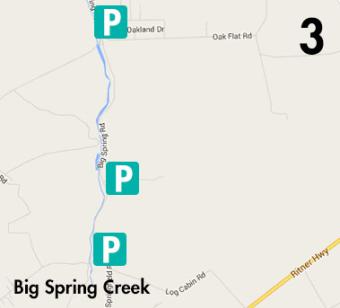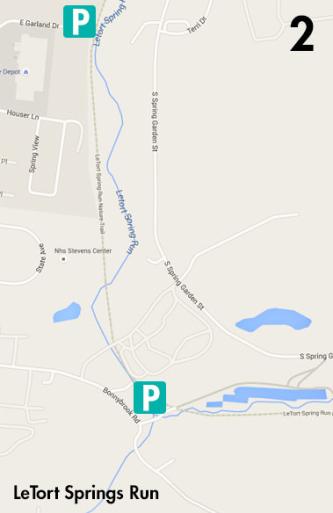 Fishing Guides & Attractions
Fishing Guides
Fishing Attractions
Make sure to take a few minutes to obtain a fishing license and/or launch permit and read over fishing and boating regulations before starting your trip. Visit www.fishandboat.com for information on boat registration, fishing licenses, water trails and basic skills. 
You can purchase a fishing license online (fishandboat.com), by mail, or in person at K-Mart Stores in Carlisle, Enola and Mechanicsburg, or Wal-Mart Stores in Carlisle, Mechanicsburg or Shippensburg.
A license, which must be displayed on an outer garment while fishing, is required of all people 16 years and older. A current Pennsylvania trout/salmon permit (stamp) is required to fish for trout and salmon in PA waters. These can also be purchased at the locations listed above.
2016 Fishing Streams & Regulations
April 2, 2016, Opening Day of Trout Season: Big Spring Creek, Children's Lake, Doubling Gap Lake, Fuller Lake, Green Springs Creek, Middle Spring Creek, Mountain Creek, Opossum Lake, Yellow Breeches Creek
Year-Round Fishing: Laurel Lake, Mountain Creek (from Adams County line downstream to the backwaters of Laurel Lake)
Catch and Release Fishing: Yellow Breeches Creek - 1.17 miles; 0.17 miles of the Unnamed Tributary to Yellow Breeches Creek (from the outfall of Children's Lake to the confluence with Yellow Breeches Creek at Boiling Springs) and 1.0 mile of Yellow Breeches Creek from the confluence with the Unnamed Tributary at Boiling Springs downstream to the vicinity of Allenberry
Catch and Release Fly-Fishing Only:
Big Spring Creek - 1.1 miles; from 100 feet below the source (Big Spring) downstream to the Nealy Road Bridge
Green Springs Creek - 1 mile; from mouth upstream to near confluence with Bulls Head Branch
LeTort Spring Run - 1.7 miles; from 300 yards upstream of bridge on T-481 (Bonnybrook Road) downstream to the Reading Railroad Bridge at the southern edge of LeTort Spring Park
Special Regulations: Opossum Lake- All species except trout - catch and release/no harvest; it is unlawful to take, kill or possess any fish except trout. All fish caught other than trout must be immediately returned unharmed. This miscellaneous special regulation will remain in effect until June 18, 2016.
Find A Room
Call (877) 840-2923 to book by phone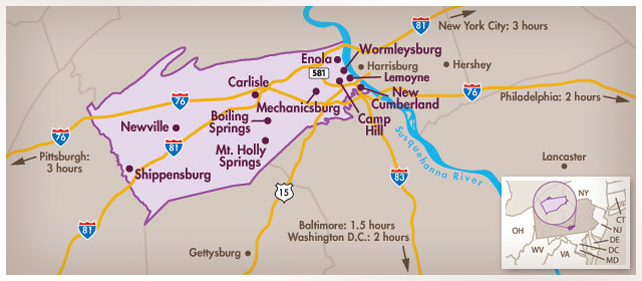 Explore the Valley using the map to the left or find activities and places to stay using the
Interactive Map