Cumberland Valley Careers
Cumberland Area Economic Development Corporation (CAEDC), Cumberland County's designated economic development and tourism promotion agency is hiring a Finance Manager to support all business financing activities, grant applications, administration and compliance, and Special Projects. The Finance Manager supports CAEDC's loan committee and the Cumberland County Industrial Development Authority (CCIDA) Board of Directors.
Essential Functions:
Maintain an awareness and knowledge of state and federal grant/loans programs relevant to CAEDC and CCIDA.
Responsible for the management of the loan process. This includes gathering of all support documents, financial analysis, preparation of
the credit memo, coordination of loan application and packaging to the state, and loan closing documents
Responsible for all grant writing and grant administration and compliance for CAEDC and its subsidiary real estate development projects
(REC) and CCIDA.
Manage all aspects of the CCIDA. Attends monthly board meetings and is the single point of contact for all requests required to support
the CCIDA Board of Directors.
All other duties as assigned.
High Level Job Duties:
Business Financing (50%)
Grant Application, Administration and Compliance (35%)
CCIDA (15%)
Core Competancies:
Analytical
Cooperation / Teamwork
Planning / Organization
Dependability
Education:
Bachelor's degree or equivalent from a four year college or university in Finance, Business or related field. Must have at least two years of experience in business financing activities and grant compliance. Business & commercial lending certification preferred.
Other Skills & Abilities:
Ability to assess and interpret financial information to support loan underwriting activities to a successful close
Experience in Grant writing and familiarity with State or Federal programs
Ability to manage and comply with a variety of grants over a long period of time to a successful audited closure
Ability to balance multiple priorities and meet needs of varying internal and external customers
Proficiency with all MS Office applications and familiarity with customer relationship management systems
Ability to handle confidential information and must ensure protection of sensitive information
High level of attention to detail accuracy and follow through
Resumes should be directed to:
Jill Hair, Executive Assistant
jill@cumberlandbusiness.com
If You Love the Cumberland Valley, Volunteer at our Visitors Center
The Visitors Bureau seeks volunteers to help staff our two Visitors Center locations - one in historic downtown Carlisle (33 West High Street) and the one at the US Army Heritage and Education Center (950 Soldiers Drive) in Carlisle. If you enjoy meeting and speaking with people and are willing to learn and share information about the Cumberland Valley, this position is for you!
Our two Visitors Center locations are a great source of free information on hotels, restaurants, attractions, events and shops within the county. Our friendly volunteers serve as brand ambassadors and ensure a positive visitor experience by assisting visitors and motivating them to explore more of our region. The Visitors Bureau provides free training and a flexible schedule.
For more information, contact:
Stacey Cornman, Visitor Services Manager
717-240-7198
stacey@visitcumberlandvalley.com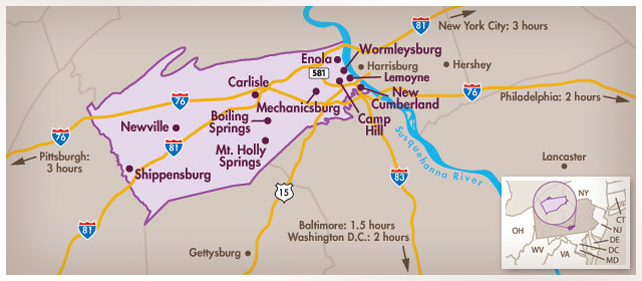 Explore the Valley using the map to the left or find activities and places to stay using the
Interactive Map