Cumberland Valley Careers
Destination Sales Manager Position
Purpose:
The Destination Sales Manager is responsible for all tourism sales and relationship activity in the meetings, groups, and sport's markets. The position will work with tourism attractions, lodging partners, and other tourism partners to sell and support the destination to attract overnight visitors and attendees.
Essential Functions:
Leads the development and execution of the destination sales strategy and budget to increase overnight visitation to Cumberland Valley.
Conducts prospecting sales missions, FAM tours, one-on-one sales calls and attends tradeshows in all identified market segments.
Manages and services all requests for proposals and leads that relate to destination sales.
Serves as the primary CVVB liaison and escort to prospective decision makers.
Develops and maintains ongoing business relationships with area stakeholders, decision makers and businesses.
Works with tourism partners on sales specific grant application requests.
Responsible for all sales for the Carlisle Events Lodging Page.
Works with the marketing department to update all sales collateral.
Maintains an informed, working knowledge of all accommodations, attractions and other services available in the Cumberland Valley as well as all surrounding area major tourism venues to provide quality service to the visitor.
All other duties as assigned.
High Level Job Duties:
Destination Sales & Support Activity (100%)
Core Competencies:
Relationship building
Self-driven
Strategic selling & ability to execute
Direct sales of intangible product
Goal Oriented
Accountability/Responsibility
Cooperation / Teamwork
Education:
Bachelor's degree (B.A.) or equivalent from a four year-college or university, minimum of five years' direct sales experience selling an intangible product, experience in the hospitality industry preferred.
Certifications or Licenses:
Transportation available to meet job requirements.
Travel to tradeshows and sales mission in other markets is required.
Other Skills & Abilities:
Ability to balance multiple priorities and meet needs of varying internal and external customers.
Proficiency with all MS Office applications and familiarity with customer relationship management systems.
High level of attention to detail accuracy and follow through.
Company Core Values:
Partner-Centric
Accountable
Integrity
Results Driven
Education
Innovative
Please send cover letter and resume to Jill Hair at jill@cumberlandbusiness.com.
If You Love the Cumberland Valley, Volunteer at our Visitors Center
The Visitors Bureau seeks volunteers to help staff our two Visitors Center locations - one in historic downtown Carlisle (33 West High Street) and the one at the US Army Heritage and Education Center (950 Soldiers Drive) in Carlisle. If you enjoy meeting and speaking with people and are willing to learn and share information about the Cumberland Valley, this position is for you!
Our two Visitors Center locations are a great source of free information on hotels, restaurants, attractions, events and shops within the county. Our friendly volunteers serve as brand ambassadors and ensure a positive visitor experience by assisting visitors and motivating them to explore more of our region. The Visitors Bureau provides free training and a flexible schedule.
For more information, contact:
Stacey Cornman, Visitor Services Manager
717-240-7198
stacey@visitcumberlandvalley.com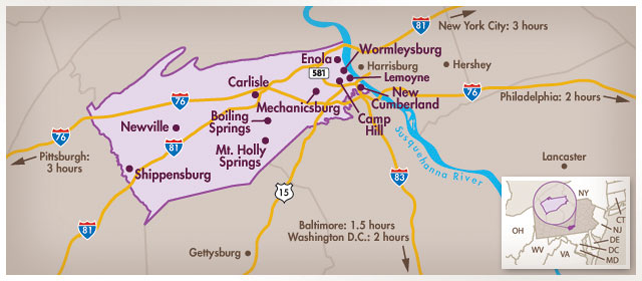 Explore the Valley using the map to the left or find activities and places to stay using the
Interactive Map