Partner with Cumberland Valley Visitors Bureau!
Marketing is a tough job. There are endless possibilities of print, web, online, outdoor and non-traditional mediums to get the word out and draw visitors to your business or attraction. So why would you choose to hop on the Cumberland Valley Visitors Bureau train as a marketing partner? We're so glad you asked.
We Help Promote Your Business
As the official tourism promotion agency for Cumberland Valley, PA, the CVVB's job is to attract visitors of all types (leisure, business, group, reunion, wedding and sports) to our destination for overnight stays.
With products like our newly renovated website, collateral pieces such as our Visitor Guide, trip ideas and maps, a downtown Visitor Center as well as two satellite Visitor Center locations and a toll-free number, we have tons of ways to promote your business.
We Provide Partnership Opportunities
We believe strong partnerships achieve great results. To build these partnerships we provide opportunities including networking events, grant programs, a tourism infrastructure loan, cooperative advertising, social media assistance and educational seminars.
MANY of our marketing opportunities are totally free! We believe in promoting the partners that make Cumberland Valley the place that visitors want to visit, without charging you a yearly membership fee.
Of course, there are some pay-to-play marketing opportunities that have nominal costs, but being our partner is always free.
Don't Take Our Word On It
Although we truly believe we offer amazing opportunities to our partners, you don't have to rely on our word. Here is what some of our partners had to say about their CVVB partnerships...
"The CVVB has been a wonderful ally in supporting the Village Artisans Gallery in its quest to find and connect with visitors and residents in search of authentic American craft and fine art! Their innovative programs such as Best in the Valley and Where's John create interest in and encourage visitors to pursue exploration of the beautiful Cumberland Valley and its many diverse and exciting attractions."
– PJ Heyman, Owner, Village Artisans Gallery, Boiling Springs
"Being a member of the Cumberland Valley Visitors Bureau is an integral part of our business plan and success story at the Hampton Inn Harrisburg-West. The many advertising and marketing opportunities help enormously in getting our message out to the business and leisure traveler alike. And everyone on their TEAM is there for us when the need arises. Thank you, CVVB!"
– Carolee Taylor, Director of Sales, Hampton Inn Harrisburg West, Mechanicsburg
Are you ready to begin your partnership with us? Here are some of the perks of a CVVB partnership:
Obtain extranet access that will allow you to claim your business listing, add events and add special offers to the CVVB website.
Receive our monthly partner eNewsletter featuring tourism trends and announcements.
Inform CVVB staff about your business or attraction so that we can include it on relevant familiarization tours and media pitches, as well as send you RFPs.
Receive invitations to our monthly Roundtables, quarterly Sales and Marketing Meetings, Annual Tourism Conference and free educational seminars.
Purchase pay-to-play advertising in our annual Visitors Guide and on our website.

To find out more contact Stacey Cornman at Stacey@visitcumberlandvalley.com.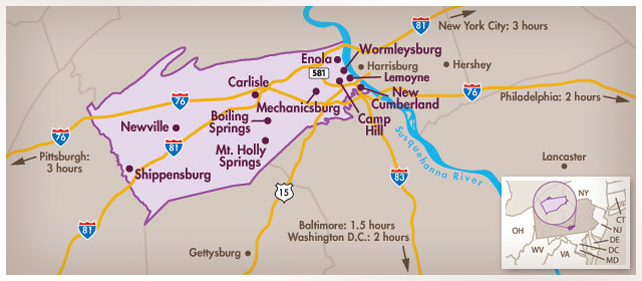 Explore the Valley using the map to the left or find activities and places to stay using the
Interactive Map