Why Choose Cumberland Valley?
Quaint downtowns, scenic backroads and breathtaking views, farmers' markets and roadside stands, craft breweries, art galleries, performing arts venues, world-renowned creeks, and more make Cumberland Valley a must-visit location. Pick a day, weekend, or entire week and uncover the exciting, historic, charming, and authentic experiences that Cumberland Valley has to offer.
Highlights
Three state parks, two state forests, the midway point of the Appalachian Trail, and 200 miles of trails make the Cumberland Valley a paradise for outdoor lovers.
From local museums and historical sites to modern facilities honoring past heroes, experience different eras of the past in new ways as you explore more than 250 years of Cumberland Valley history.
Carlisle Events is the world's largest presenter of auto entertainment with weekends dedicated to Ford, Chrysler, Corvette, and more.
Explore our downtowns with their specialty shops featuring Made in Cumberland Valley products, historical architecture and local museums, and unique dining experiences.
Cumberland Valley is home to some of the finest agricultural land in the country. Take advantage of our seasonal bounty at local farm stands, farmers' markets, and unique farm attractions.
The Valley's emerging breweries and restaurants welcome you to sample the unique flavors of their craft brews. Tap, tour and try a pint!
A memorable family vacation awaits in Cumberland Valley with a mix of interactive entertainment, outdoor adventure, and old-fashioned fun.
You'll find all of these things, plus a  thriving arts community, a vast variety of restaurants, and a great selection of places to call it a night. Pack as much as you can into your trip. We dare you!
Cumberland Valley PA is in the perfect location for getaways, easily accessible off of Interstate 81, I-76, I-83 and US 11/15, a 30 minute drive from Harrisburg International Airport and Amtrak station, and within a 2-3 hour drive of Washington D.C., Baltimore, Philadelphia, Pittsburgh and New York City. Once you're here let us show you why you should keep coming back!
World-Class Educational Institutions
Find A Room
Call (877) 840-2923 to book by phone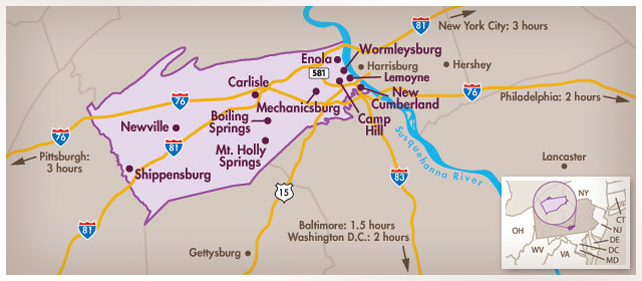 Explore the Valley using the map to the left or find activities and places to stay using the
Interactive Map