Cumberland Valley Testimonials
You don't have to take our word for it… check out the following testimonials about the Cumberland Valley destination including restaurants, shops, attractions and events.
Suggestions from our locals allow you to plan an authentic getaway and include the hidden gems a traveler wouldn't find on their own. Share your testimonials on our Facebook page. 
NORTH HANOVER GRILLE AND MARKET CROSS PUB & BREWERY 
"Old Bay, Wing Dust, Teriyaki and Garlic Parmesan are just a few of the many sauce flavors available at the North Hanover Grille wing night—every Tuesday, all day long, this is only one of the wing night specials in the area. After you get your fill of wings at the Grille, be sure to head down the street for a beer at the Market Cross Pub—their menu contains an impressive assortment of brews from near and far." - Molly, Carlisle
"I will never be able to pick a favorite pizza topping at the new Pizza Grille in Carlisle, but I LOVE that they have a whole wheat crust option! Healthy and delicious!!" - Katherine, Carlisle
"My friends and I enjoy hanging out on the deck at Dockside Willies and sharing a crab pretzel while watching the fireworks from the Harrisburg Senators game." - Kate, Mechanicsburg
"Something else I just discovered which I have definitely been missing out on for the past three years is Fay's Country Kitchen. I love breakfast food anytime of day! The peach oat bran and blueberry oat bran pancakes at Fay's are the best pancakes EVER! They have just a hint of cinnamon and are loaded with fruit inside the pancake. No syrup needed. Yummy!" - Valerie, Mechanicsburg
"If you have time for an extended lunch it's really worth making a reservation at Camellia's Sin Tea Parlor. The tea, scones, seasonal soups and sandwiches and desserts are all divine." - Jane, Boiling Springs  
"Never had a bad meal, a bad wait-person or a bad time at Boiling Springs. The NY Strip Steak is the gold standard in steaks!" - Margaret A., Morgantown, WV
"We enjoyed going several times while in Carlisle for the week. When we left, I made a special trip to get Massey's for the rest of the family - driving it 5 hours, luckily I had a cooler that kept everything just fine. It was a really nice surprise for the rest of the family :-)" - Ms.CasualTavelor, Hartford, CT (Trip Advisor)
"Awesome food, cozy atmosphere, an owner/family who just wants to please their customers." - Tara D., Mechanicsburg, PA 
"Best new restaurant and best restaurant with excellent Greek food that's worth waiting for!" - Meta B., Carlisle PA
"Knowledgeable servers can help you with your choice of beer. Food is delicious; you may come for the beer, but you'll go back for the lamb-burger or the mussels, the house specialty. Cones of pommes frites are huge--maybe you only need one for every two people. Don't miss the house-made dips for the frites, like horseradish mayo and curry ketchup." - lschaming (Trip Advisor)
"Always great tasting food, fast service, reasonable, and friendly staff." - Lincoln H., Mechanicsburg PA 
"Stopped in on way through Carlisle. Boy, are we glad we did!! Really unique selection of flavors. My husband had the anise and thoroughly enjoyed it. I had chocolate peanut butter and it was heavenly. They have things like pumpkin, honey sunflower vanilla, coffee heath bar, Was hard to choose just one. Definitely worth stopping if in the area....or making a trip there just for ice cream! :-)" - michfree (Trip Adviser), White Oak, PA 
"Leo's is the best Ice Cream ever. Great flavor ice cream.  My favorite is Almond Joy, but anything is great. Salted Carmel....ANYTHING IS GOOD. Love Leo's Ice Cream!!!!!" - Naoko_Kennedy (Trip Advisor), Boiling Springs, PA
"Meadowbrooke Gourds is a great place to take the whole family! Our daughter has the lady bug gourd in her ladybug themed room and often uses it as a night-light. It's adorable and she loves it!" - Hilary, Newville
"Whenever I have a gift emergency (IE I forgot my best friend's birthday) and I need to grab something awesome really quick… I head to Pat Craig Studios in Carlisle. From fine jewelry to bacon band aids, I am sure to find something different that anyone would love to receive!" - Katherine, Carlisle 
"Every Saturday when I'm at the West Shore Farmers Market picking up fresh produce and exploring the upstairs boutiques I also like to stop by the Doggie Delights booth and pick up a cute treat for my puppy. He loves the peanut butter sandwiches and the mini pizza treats!" - Kristen, Mechanicsburg
"The theater is both a movie theater and a performing arts theater. Situated smack dab in the heart of Carlisle, this little gem is as pretty inside as the outside old art deco style marquee is handsome." - enternamehere (TripAdvisor), PA
ANTIQUE MARKETPLACE OF LEMOYNE
"The Antique Marketplace of Lemoyne is perfectly organized. It's great to be able to choose between jewelry, glassware and even farming equipment without having to look too incredibly hard." - Lauren, Enola
The Village Artisans Gallery always has the most wonderful variety of handmade items, all so beautifully displayed in that lovely old church. " - Barb, Chambersburg 
"Whenever I need a unique gift, I like to stop by History on High-The Shop in downtown Carlisle. This gift store has local goodies, books and more. The nice part is it's right next to the Cumberland County Historical Society." - Kelli, Carlisle 
"Georgie Lou's Retro Candy & Gifts in Carlisle is a place that takes you back to your childhood, or just makes you feel like a kid. If you have a sweet tooth or just looking for a out of the ordinary gift....this is the place for you." - Lawrence L., Boiling Springs, PA 
"The owner is a wonderful lady and very knowledgeable. A joy to talk to and great customer service. She helped me find just what I was looking for. Will definitely shop there again!" - Sherri M.
"One of our favorite things to do is spend the day in New Cumberland. You have to start the day at T.J. Homestyle  for the best baked Oatmeal or pancakes. Then off the check out the unique shopping, galleries and restaurants. Many have a European Twist. My absolute favorite is having an Irish Tea at Oxford Hall Celtic Shop." - Cindy, New Cumberland
"Visiting one of the many classic car shows at the Carlisle Fairgrounds, and enjoying the annual Corvette parade through downtown Carlisle is an absolute must." - Bill, Carlisle
"The Carlisle Truck Nationals is a true family-friendly event. My son absolutely loved Megasaurus. He stood in amazement as Megasaurus chomped a car in half and set it on fire." - Rafael, Carlisle   
"There is so much to see at the Flea Market at Williams Grove that you really need to set aside a few hours on a Sunday morning to take it all in. Rows and rows of stands offer everything from vintage and antique goods to fresh local produce. Try to go when the old train is running and be sure to pick up a delicious funnel cake at one of the many food stands at the market."
   - Molly, Carlisle
WEST SHORE THEATRE  
"If you're looking to catch a movie while in the Valley, visit the West Shore Theatre located in New Cumberland. Sure, the newer theaters are comfortable and have anything you can think of, but they can't beat the allure and nostalgia of waiting in line on the sidewalk to purchase your ticket at the ticket booth window and going inside to choose your seat in the one-room theatre."
   - Melissa, Harrisburg
U.S. ARMY HERITAGE & EDUCATION CENTER
"I really enjoy walking around The Solider Experience exhibit at the U.S. Army Heritage & Education Center. It's crazy to see how heavy soldier's equipment is and I like trying to land perfectly in the Parachute Simulation." - Cory, Camp Hill  
"This is one of those, "we gotta stop there one day" places that we would pass on the way home from a visit to my folks. Wow! I wish that we knew what we were in store for! I would of budgeted more time. I had no idea a that the grounds were as expansive as they are. I also had no idea that there would be a indoor museum with interactive exhibits. Buildings, mobile armor, aircraft and fire bases from all major conflicts in American history are displayed and/or recreated. Ever wonder what a trench from WWI was like? Or a Vietnam era FB? This is your chance! You gotta do this. Give yourself plenty of time." -Jim M., Staten Island, NY
"Downtown Carlisle certainly knows how to put on an event! I love attending Harvest of the Arts, the Ford & Corvette Parades and the weekly Farmers on the Square Market." - Paige, Carlisle
"On a nice day I like to visit the historic buildings of the Mechanicsburg Museum Association. It's cool that you can walk around town and view architecture from different decades. The Frankeberger Tavern dates back to 1801!" - Jim, Lemoyne
"I enjoy spending an afternoon in Camp Hill. Willow Park is a beautiful spot for a picnic and if I need a caffeine boost I like to chat with the locals at Cornerstone Coffeehouse." - Craig, Camp Hill 
"It's so much fun to watch the sprint car racing at Williams Grove Speedway. After the races we head over to TJ Rockwell's for a drink and appetizers to rehash all the action." - Ben, Mt. Holly Springs
"The drive-in has provided many entertaining evenings for my friends and I on several occasions over the course of the past 15 years." - Scott H., Waynesboro 
"If you haven't hiked up to Flat Rock you need to see the view! On a clear day you can see over 30 miles across the valley." - Donald, Shippensburg
"Throughout the summer and fall, I love to take my dog hiking locally on the Appalachian Trail. There are many connections points near Carlisle, but I have found that hiking Pole Steeple and then walking on the trail from there is a great day's exercise and always an adventure. You meet people from all over the world as they journey a piece or all of this national 2,175 mile trail from Georgia to Maine." - Mira, Carlisle
KINGS GAP ENVIRONMENTAL EDUCATION CENTER  
"Throughout the summer, my family and I like to spend Sunday afternoons at King's Gap State Park. We stop at a scenic overlook for a picnic lunch, then head to the Mansion Gardens to enjoy the beautiful plants and flowers. We usually spend a few hours hiking one of the many trails and then enjoy the scenic 4-mile drive down the mountain."  - Stacey, Carlisle
"Children's Lake in Boiling Springs reminds me of a fairy tale – the streets of charming homes, the peaceful waters and even feeding the white geese are so relaxing.  It's a great place to unwind!" - Ashley, Carlisle
"The fly-fishing streams in Cumberland Valley are synonymous with the sport. You have to watch out for those wily trout at LeTort Spring Run."  - Don, Boiling Springs
"Kayaking on the Yellow Breeches is so relaxing and offers great views. I especially like floating under the covered bridge at Messiah." - Logan, Shippensburg
"My whole family enjoys a walk around the mile-long Army Heritage Trail. My nephew especially loves to  look at the tank and explore the WWI trench system." - Vickie, Mechanicsburg 
Find A Room
Call (877) 840-2923 to book by phone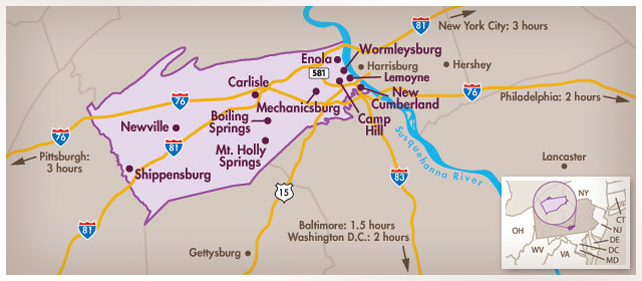 Explore the Valley using the map to the left or find activities and places to stay using the
Interactive Map