Cumberland Valley, PA (January 20, 2017) – The Cumberland Valley Visitors Bureau (CVVB), the destination marketing arm of Cumberland Area Economic Development Corporation (CAEDC), announced the recipients of the 2016 Tourism Grant Program along with 2017 tourism funding opportunities.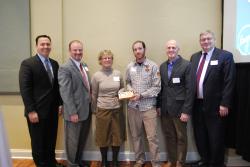 A portion of Cumberland Valley's Lodging Tax Income is designated each year for grant funding to support Marketing Initiatives and Tourism Capital Improvement projects in Cumberland County. Since 2010, CAEDC has awarded 97 projects with $525,000 in funds with a total investment of $1.3 million.

"Many of the organizations that apply for our Tourism Grant are non-profit, volunteer or friends groups that have the drive and the time, but not always the funding or expertise to promote and improve their organization," said Ashley Kurtz, CAEDC Promotions Manager. "We took this opportunity to form partnerships. We leverage hotel tax dollars to fund projects that enhance the visitor experience or increase tourism to Cumberland Valley."

2016 TOURISM GRANT RECIPIENTS:

2016 marked the eighth grant cycle administered by CAEDC. Nine applications were selected to be awarded. See a breakdown of the awarded grants below.

Appalachian Trail Museum - $5,600 - Track Lighting, Day on the Trail Mural and Welcome Cabinet for Children's Museum
Army Heritage Center Foundation - $2,500 - Advertising for 2017 Army Heritage Days
Borough of Lemoyne - $25,000 - 100 ft long gateway mural for I-83 Ramp
Bosler Memorial Library - $2,500 - Advertising for Celebrate the Book Week
Central Pennsylvania Youth Ballet - $25,000 - Advertising for 2017 5-Week Program
Craighead House Committee - $12,990 - Sign for parking lot and painting the historic Craighead House
Downtown Carlisle Association - $5,644 - Advertising for 2017 Ice Art Fest
Historic Carlisle - $2,500 - Modernize and update 11 existing waymarker signs and install one new sign
TCO Outdoors - $15,466 - Purchase four boats and accessories for Children's Lake and rack cards

2016 was also the first year partners could apply for the SNAP (Seasonal Application Program) grant. SNAP was created as a way to easily fund small projects. The SNAP grant could be utilized for brochure printing, advertising, sign manufacturing and photography or video production.

The SNAP program was a success in the first year with eighteen projects being awarded a total of $28,000. These projects included ten partner brochures, advertising for four organizations and four signage programs.

2016 TOURISM GRANT PROJECT OF THE YEAR: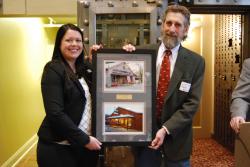 CAEDC also announced the first-ever, Tourism Grant Project of the Year to the TCO Outdoors in Boiling Springs. TCO utilized tourism grant dollars to enhance planned renovations to a Cumberland County landmark. Instead of just making repairs that were needed, TCO made repairs in a way that paid homage to the former dance hall's history.
Although the restoration of Yellow Breeches Outfitters into TCO Outdoors was significant, perhaps even more important to this project, were the relationships that were developed during the process. TCO staff was dedicated to the community from the beginning and focused on connecting to as many partners as they could.
2017 TOURISM FUNDING PROGRAMS:

In 2017, there is a total of $230,000 available for funding tourism-related projects through three grant programs and one loan program. See details below.

SEASONAL APPLICATION PROGRAM (SNAP) - ($500-$2,500)
Eligible projects include brochure printing, professional photography and videography, sign manufacturing and select advertisement placements. Applications are accepted January -October and reviewed monthly.

TOURISM GRANT - ($2,500-$25,000)
The purpose of this grant program is to increase visitation and enhance the visitor experience in Cumberland Valley through Marketing Initiatives and Tourism Capital Improvements.
Deadline for communicating intent to file: March 17, 2017
Deadline for applications to be submitted: March 31, 2017
Awards will be announced: May 2017
MEETINGS & MOTORCOACH APPLICATION PROGRAM (MMAP)
MMAP is designed to assist partners select and register for tourism marketplaces and tradeshow events targeting the market segments on the CVVB sales plan. The MMAP covers early bird registration fee only, and does not cover any tourism tradeshow travel costs or expenses. Applications accepted monthly.

TOURISM INFRASTRUCTURE LOAN FUND (TILF) - ($50,000-$100,000)
The TILF was established by CAEDC to provide capital to businesses in the tourism industry for acquisitions and facility improvements.

FIND INFORMATION AT
visitcumberlandvalley.com/newsroom/tourismfunding

Photos: First Photo (left to right) - Doug Callenberger (CAEDC Board Member), Jon Cox (CAEDC Board Member), Gwen Loose & Nathaniel Shank (AT Museum), Lance Miller (CAEDC Board Member) & Dave Swartz (CAEDC Board Member)
Second Photo (left to right) - Ashley Kurtz (CAEDC Staff) & Dusty Wissmath (TCO Outdoors)

About CAEDC
CAEDC is Cumberland County's authorized agency charged with leveraging and promoting Cumberland Valley's economic development and tourism assets to drive growth, create jobs and improve the quality of life. Offices are located at 53 W. South Street, Carlisle PA. For more information, visit www.cumberlandbusiness.com and www.visitcumberlandvalley.com.