Sometimes we forget just how amazing and beautiful our own area is, but yesterday we took full advantage of the views from within the forest, and the view from the top of the mountain! We hiked Flat Rock Trail which starts at the base of the mountain in
Colonel Denning State Park
, and ends at the top.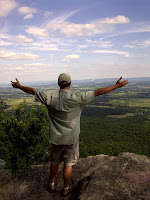 The view at the top is nothing short of AMAZING!! Put this hike on your must-do list for sure! It's a steep and somewhat strenuous hike, but by the time you reach the flat rocks, you realize just why you put forth the effort. Plus, the trail through forest itself is gorgeous. The remnants of the past blooms on the many mountain laurel make me wish we had hiked when it was in full bloom, but nevertheless, the moss, the ferns, the mountain creeks, it's all nature at it's best!
Make sure you take plenty of water for the hike, and since we were quite jealous of the hikers who we met at the top enjoying their trail mix, we suggest a nice snack of trail mix to enjoy when you reach the rocks!