Every month we take a little "field trip" to visit some of our partners and learn more about the wonderful attractions and businesses that we promote.  Last week we explored Shippensburg, and spent some time at The Conference Center at Shippensburg University.

I could tell you about how the conference center is awesome for events and has tons of different options for large and small meetings.  I could tell you about the really cool window break out rooms.  I could tell you about the outdoor meeting space.  But to me, that wasn't the best part.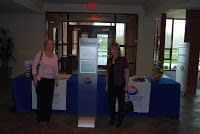 To me, the best part was the A+ hospitality we received from the moment we arrived.  We were instructed to park Julio (our company van) out front in a special spot.  There was an outdoor kiosk with a welcome sign made just for us.  There were cookies inside the front door.  There was a customized tour with lots of time for questions and exploring each and every room.  Our website was displayed on the overhead projector.  The microphones were even turned on in the board room so we could have a little fun saying ridiculous things.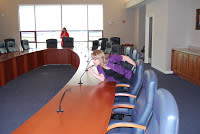 If this is the hospitality extended for a small, informal tour, imagine the type of hospitality and attention you would receive for a meeting, conference, wedding or other special event!  In my opinion, this is the type of hospitality that makes our partners truly amazing.  This is the type of hospitality that you can only find in Cumberland Valley.