9th Annual March to Destiny
Civil War Living History Encampment / Reenactment will be taking place from 8 a.m. - 11 p.m. in Shippensburg. This event commemorates Shippensburg's involvement in the Civil War.
The event portrays the Confederate invasion of Pennsylvania by replicating the actual events of the town's occupation in late June 1863. Event activities include: living history, street skirmish, community breakfast with Reenactors, firing drills, foraging, luminaries, children's activities, food court, parade, speakers, Civil War Ball, Victorian Tea, period music, buggy rides, sutlers, church service & climatic tactical battle.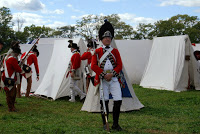 The second living history event is scheduled for September 10th-12th at the U.S. Army Heritage & Education Center.
The Market at Washingtonburg
is an 18th-century market and military fair featuring sutlers, military units, Native Americans, performers, 18th-century Military court martial, artists and craftsmen from around the country, education tours, 6,000-7,000 visitors and operating blacksmith shop.
The best part? Both events are
FREE
! Anyone planning on going to either of these?