Cumberland Valley's collection of Bed & Breakfasts offer the best of town and country. All are eager to recommend their favorite spots to eat while you're in town and on top of that, they provide delicious breakfast items that will have you begging for their recipes.
See our suggestions below for a town or country B&B getaway, complete with restaurant recommendations right from the innkeepers...and a few recipes!
Downtown Getaway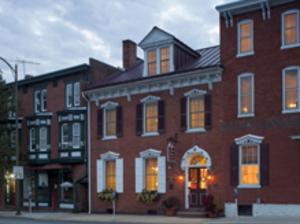 The Carlisle House B&B is located right in downtown Carlisle. This award-winning property is the only Select Registry, Distinguished Inns of North America inn in the Cumberland Valley. The B&B offers 10 luxurious rooms and offers a balance of historic charm and updated amenities. 
Restaurant Recommendations:
Owners, Carolyn and Tim Carlisle recommend a variety of restaurants to their guests. As Carolyn shares, "Here are some of our favorites, but with so many really good restaurants here in Carlisle, it is hard to have favorites!"
Within walking distance they recommend:
For those looking to explore a little farther out in the Valley they recommend:
Exclusive Recipe:
Baked Pears with Raspberry Ginger Sauce
Country Getaway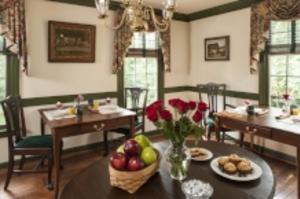 30 Timber Road B&B offers gracious hospitality, pampering, and comfort on 14 serene and secluded acres. This B&B has all the modern amenities you're looking for including comfortable king-size beds, flat-screen TVs, private bathrooms each with a whirlpool tub, and free WiFi. It is close to great outdoor recreation like fly-fishing, kayaking, and hiking, but is still near a variety of restaurants and attractions.
Restaurant Recommendations:
Innkeepers Dee & Chuck recommend the following while staying at their B&B:
Cafe Bruges - the taste of Belgium in downtown Carlisle with a wide range of beers
Hellenic Kouzina - traditional Greek cuisine in downtown Mechanicsburg
Exclusive Recipe:
Old-Fashioned Oatmeal Pancakes