Through the first half of February, we asked our fans on Facebook and Twitter to chime in with their favorite burger spots in the Cumberland Valley. There's so many great spots to choose from, but only one can be the BEST. And the winner is...North Hanover Grille in downtown Carlisle!
North Hanover Grille is a great location for a quick and delicious lunch or dinner. Their menu offers a variety of choices sure to satisfy most cravings, but among some of the favorites, there is the Patty Melt featuring a 6 ounce Black Angus burger with fried onions and Swiss cheese on grilled Rye bread. If you are looking for something a bit more substantial, try the Dickinson, which features two 6-ounce patties topped with four slices of hickory smoked bacon, and American, Monterey Jack and Cheddar cheese. Order cheese fries on the side and wash it all down with a draft beer. Taste for yourself why it was voted Best in the Valley!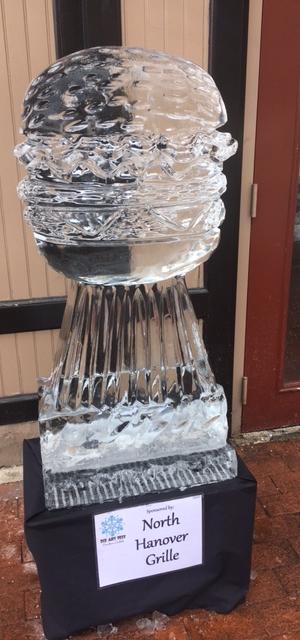 North Hanover Grille loves burgers so much, this was their ice sculpture during the first Downtown Carlisle Ice Art Fest in February.