Notable battlefields, celebrated landmarks, and modern-day museums showcase historic moments throughout Pennsylvania. The Cumberland Valley region also features storied architectural downtowns and rich military sites, which allows for endless discovery for history buffs. While the Valley has a host of historic locations, we asked our Facebook fans to vote for the Best History Attraction in the Valley, and the winner is…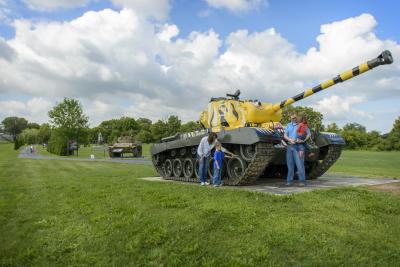 The U.S. Army Heritage & Education Center.
The U.S. Army Heritage & Education Center, or USAHEC, is the premier facility for historical research on U.S. Army history and is dedicated to "Telling the Army story...one Soldier at a time." The expansive campus includes the Visitor and Education Center, the U.S. Army War College Library, the U.S. Army Military History Institute, and the Army Heritage Trail. The Soldier Experience Exhibit is a fun, interactive aspect of USAHEC, where visitors can see through the eyes of a soldier during some of the Army's most prolific battles and exercises. Outside is the mile-long Army Heritage Trail with full-scale military exhibits including Civil War cabins, a WWI trench system, tanks and helicopters. USAHEC also hosts a number of events throughout the year, including their lecture series and Army Heritage Days every May.
Visitors can explore the U.S. Army Heritage & Education Center seven days a week and is easily accessible off of I-81 in Carlisle. All exhibits are free and open to the public.