Whether it's Valentine's Day, a birthday, or just a treat for yourself, jewelry can accessorize any attire and is a great gift. Some might even say it's the greatest gift. Those who voted for the "Best Jewelry in the Valley" certainly thought so, as they voted downtown Carlisle's the greatest gift the winner.
The greatest gift in Carlisle opened in January 2014 (they recently celebrated their 3rd birthday) and has since become a staple of the downtown shopping scene. Customers love their selection of unique gifts, like pottery, handbags, home décor, clothing and jewelry, most of which is locally-made. Jewelry at the greatest gift includes Helder Designs, Anne Vaughn Designs and Reflections in Silver, which is made in Mechanicsburg.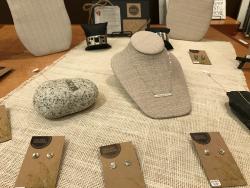 With Valentine's Day approaching, the greatest gift's owner, Kristin Tuckey suggested mixing medals up, rather than staying with matching sets. So whether it's traditional jewelry like sterling silver or pearls, or something more unique like copper or guitar strings, you can find something your partner (or yourself) will love at the greatest gift.