It's probably an understatement to say that I like reading books. To quote Thomas Jefferson, "I cannot live without books." They are all over the house… piled next to the bed, on numerous book cases, on the coffee table, and on the kitchen table. Luckily, I can get my book fix at a number of both new and used book stores throughout Cumberland Valley. My favorite independent book store is
Whistlestop Bookshop
in downtown Carlisle. Jeff and his staff are welcoming and always willing to offer recommendations and guidance so that you find the perfect book for yourself or to give as a gift.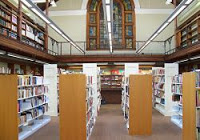 My obsession with used books started when I began collecting old editions of Gone With the Wind.
Canaday's Book Barn
and
Pomfret Street Books
are ideal locations for browsing what seems like miles of shelving filled with used books.
Canaday's, located about 15 minutes from downtown Carlisle, is located in a 200-year-old bank limestone barn and also includes old maps, prints, and vintage magazines. Pomfret Street Books, in downtown Carlisle, is chock-full of books from floor to ceiling on two floors. Whether you are looking for biography, fiction, travel, history, or theology, Pomfret Street Books always has a great and ever-changing selection. And, I can't forget to mention
The Bookery
at Bosler Memorial Library. Run by the Friends of Bosler, The Bookery offers a wide variety of books on all topics at very reasonable prices. I love running down there on my lunch hour to see their latest selections.
-Stacey