Cumberland Valley is home to gifted craftsmen who make everything from beer to home decor to jewelry. Whether you're wearing, displaying, or tasting these fine artisan crafts, you'll be sure to love every moment of this handmade weekend.
While visiting more than 20 craft breweries along the Cumberland Valley Beer Trail be sure to download the free mobile passport and check-in on your mobile device to start earning prizes.
Half Day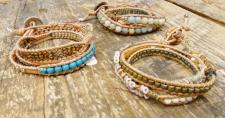 Begin your trip in historic downtown Carlisle. History on High - The Shop is home to a collection of locally crafted treasures. Find jewelry, soaps, ornaments, cards, pottery, and more tucked into this cozy shop. The shop is also home to the Cumberland Valley Visitors Center. Pick up any of the 150+ brochures, flyers, and guides on display. Whether you are looking for local or regional attraction information, we've got you covered!  Your next shopping stop is within walking distance. the greatest gift features unique items, including beautiful jewelry and pottery, handcrafted by artisans.
It will be hard to decide where to eat lunch, but some suggestions include Brick or North Hanover Grille. Brick serves salad, soups, and sandwiches for lunch or dinner with specialty cocktails, wine, and beer. North Hanover Grille serves up daily specials and has some of the best wings in town. They also have an extensive selection of domestic, import, and craft beers. If you are looking to add stickers to your Beer Trail passport, plan to have lunch at Cafe Bruges (Belgian food and beer) or Market Cross Pub (English pub food plus 250 varieties of beer and ale).
For an afternoon pick-me-up, get your caffeine fix at Square Bean or Denim Coffee. Both locations offer stellar java and a place to recharge before heading out for more shopping adventures.
Full Day
Enjoy cruising through the scenic countryside as you travel to Meadowbrooke Gourds. The largest gourd manufacturer in the country, this family-owned business grows, cleans, and crafts gourd-eous creations. Behind-the-scene tours are given every Tuesday, but even a stroll through the whimsical store will show why this hidden gem was featured on the Discovery Channel's Dirty Jobs. Meadowbrooke also offers several make-your-own gourd classes throughout the year.
No artisan craft tour would be complete without stopping for a sweet temptation at Brittle Bark. Featured on the Rachel Ray Show, this unique manufacturer creates gourmet chocolates and their signature Brittle Bark. The more unusual offerings include chocolate-dipped cookies, chips, rice krispie treats, and cheesecake. For an extra special treat, plan your visit to coincide with one of their chocolatier classes. Your chocolate purchases will pair nicely with the award-winning wines at Cristiano Winery on Main, a cozy tasting room located close to Brittle Bark.
End your day at Appalachian Brewing Company. This brewpub has a handful of locations scattered throughout Central PA and features flagship brews as well as new seasonal specialty brews throughout the year. The menu offers a fun variety of modern favorites with a twist, as well as a smattering of huge burgers, including The Original Harrisburger.
Make it a Weekend
Visit the Sweetest Place on Earth to learn how the iconic Hershey Bar is manufactured at Hershey's Chocolate World. Your free tour includes everything from singing cows to a free chocolate sample at the end. Browse the giant gift store for unusual and hard-to-find chocolate flavors and giant, five-pound, Hershey Bars.
Take a self-guided tour, or reserve your spot on a guided tour, at Tröegs Brewing Company. Either way, you'll learn how the beer is fermented and bottled, and enjoy a tasting of their signature beers.
Wrap up your weekend at Al's of Hampden. In between bites of pizza, wings, and other pizzeria specialties, enjoy one of the 99 beers on tap, including a selection of brews made in-house.
Extend Your Stay
Cumberland Valley offers a wide selection of other brews and baubles to uncover. Explore our wineries & distilleries, art galleries, and a special selection of Made in the Valley products. Relax at the end of the day in one of our comfortable hotels or cozy B&Bs.