Cafe Uovo
, located at 2163 Market Street, offers a unique assortment of omelettes, breakfast bowls, mocktails and the innovative Brustini (a cross between bruschetta and crostini).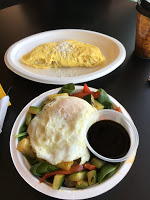 My husband and I stopped by last Sunday for an early breakfast. The inside is small but very cute with modern seating and a counter with a chalkboard menu to order from. I wish it had been warmer out, because they have a nice front patio with seating that will be very enjoyable in the summer months. I ordered the Rembrandt breakfast bowl with
yellow squash, zucchini, spinach and roasted red pepper
s on top of rosemary potatoes and topped off with a fried egg. My husband customized an omelette with chorizo, queso fresco and onion. I also ordered a mojito mocktail which I can best describe as "zingy".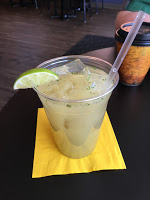 We both agreed that these were the best cooked eggs we've ever gotten at a restaurant, which makes sense given the Uovo in the name means "egg". Although the portions were a little small, the vegetables and potatoes in my bowl were well cooked and filled me up. 
I will definitely be back to try the Brustinis, especially the sweet ones including the Pollack with blueberry, brie and
pistachio

s

and the Monet with apples, walnuts and brown sugar glaze.
Next time you find yourself in Camp Hill, stop by Cafe Uovo for a different spin on breakfast or lunch.
-Kristen