Impressive cars + delicious burgers = a true American experience. Cumberland Valley is an auto destination, home to the world-renowned Carlisle Events Car Shows, the famous Williams Grove Speedway and a collection of other raceways and auto museums. This area is also known for great dining including a collection of places serving up the classic American burger. Here we've combined the two for you so you can have a revved up auto getaway complete with delicious, and satisfying, meals.
Carlisle Events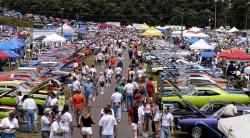 Carlisle Events hosts eight annual auto events at the Carlisle Fairgrounds each year. Over half a million visitors travel throughout the car show season, April-October, to witness all things automotive. These family-friendly shows feature something for everyone including special vehicle displays, part vendors, burnout contests, giveaways, stunt shows, live music, special guest appearances, industry professionals and much more. Since each show is specialized, view our suggested trip ideas for the individual shows below.
Spring Carlisle & Auction - April
Import & Performance Nationals - May
Ford Nationals - June
Chevrolet Nationals - June
Chrysler Nationals - July
Truck Nationals - August
Corvettes at Carlisle - August
Fall Carlisle & Auction - September
Williams Grove Speedway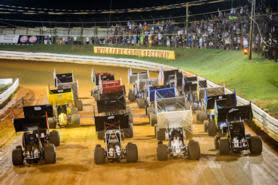 Williams Grove Speedway in Mechanicsburg is known for some of the most competitive 410 sprint car racing in the world. Since 1939, race enthusiasts have been enjoying dirt track racing from March to October on the 1/2 mile banked clay oval track. Car classes include 410 Sprints, Champ Cars, 358 Sprints, 360 Sprints, 305 Sprints, Midgets, Super Sportsman, Late Models, and Street Stocks.
Other area raceways include Doublin Gap Motocross in Shippensburg and the South Mountain Raceway in Boiling Springs.
Other Auto-Related Things to Do
While you're here for your auto-filled getaway, include a museum like the Rolls Royce Museum, Antique Automobile Club of America Museum, or the Eastern Museum of Motor Racing into your stay. 
Plan to race your friends at the Autobahn Indoor Speedway for a thrilling addition to your trip. Their high-speed Italian pro-karts reach speeds of 50 mph.
Cumberland Valley's Best Burgers
On to the delicious part of your getaway! When it comes to burgers, everyone has their favorite. Below are a few of our local hot spots. You can also view a group of locals' favorite burgers to order.
1794 The Whiskey Rebellion - This modern, rustic restaurant features a lot of home-cooked favorites. Try the Molly Burger (named after local Revolutionary War heroine Molly Pitcher). This decadent burger is topped with bacon, soft cow's cheese, and local peach and ginger chutney. Go ahead and add a duck egg to send this burger over the top!
Cafe Bruges - Even though burgers are an American favorite, this Belgian restaurant sure makes a tasty one. While the regular beef burger is delicious, try the lamb burger for something different. They also make delicious frites (fries) that come with homemade dipping sauces. 
North Hanover Grille - This local favorite features several delicious toppings for their 6-ounce Angus burgers. For a deep dive into burger paradise, try the Dickinson -- with two 6-ounce patties, bacon, American and Monterey Jack cheddar cheese on a roll.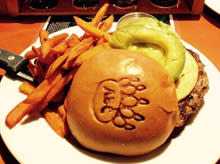 Appalachian Brewing Company - It makes sense that a brewery would have great burgers to go with their beer. At ABC, they even recommend which beer to pair with each burger. For something different, try the "Yurt Burger" with Bourbon BBQ bacon, two fried onion rings, and Root Beer BBQ ranch. 
Flinchy's & Brewhouse Grille - Both of these local hangouts in Camp Hill offer a classic burger with all the toppings. 
Hellenic Kouzina - For an untraditional burger experience, try the Greek-inspired turkey burger at this popular spot in Mechanicsburg. 
Dewz Dogz - Throwing this one in at the end for all the hotdog lovers out there. Stop by this small drive-thru during the warmer months for creative hotdogs like the BLT dog, Chihuahua with guacamole, sour cream and chili, and the White Shepard with swiss cheese and bacon.