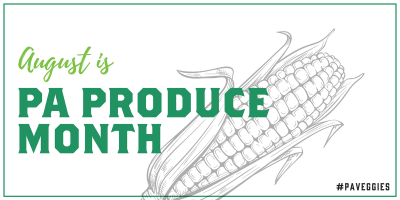 August is PA Produce Month and from August 7-13, 2022, we also recognize National Farmers Market Week. Cumberland Valley's farmers' markets and roadside stands make it easy for you to celebrate our rich agricultural heritage. With over 1,400 farms of varying sizes and approximately 45% of the county in agriculture use, you won't have to travel far to find fresh fruits and vegetables and unique farm attractions. Here are some highlights to help you travel like the locals. Find more places to explore in Cumberland Valley and the South Mountain Region by viewing our Local Food, Farm & Outdoor Attractions Guide.
Shippensburg to Carlisle
The Ship Open Air Market in Shippensburg is held each Thursday from 3:30 pm to 6:30 pm. Featuring over 20 vendors, all located within a 60-mile radius of the market, visitors will find seasonal fruits and vegetables such as cabbage, peppers, squash, onions, lettuce, and tomatoes, plus homemade baked goods and specialty cheeses. Open from early May through the end of October.
Maplewood Farm Market, outside of downtown Shippensburg, is open Monday through Saturday year-round and offers seasonal local produce – from apples, peaches, and melons to sweet corn, green beans, and broccoli – plus eggs, milk, cheese, and bulk foods. Their adjacent garden center and greenhouse offer flowers for all seasons, including pansies, geraniums, mums, and poinsettias. If you want to try gardening, purchase some of their vegetable plants early in the spring and reap the benefits of an overflowing garden during the summer months.
Farmers on the Square operates their year-round outside market in downtown Carlisle on Wednesdays from 3 pm to 7 pm May through October and from 2 pm to 5 pm November through April. The 20+ regular and weekly guest vendors are located within a 50-mile radius of the market and are required to make what they sell and use locally-sourced ingredients. Produce includes radishes, peas, cabbage, beets, cherries, potatoes, lettuce, squash, and tomatoes. Other vendors sell bread, baked goods, honey products, handcrafted drinks, and gourmet cheeses. Learn more about Farmers on the Square!
Mechanicsburg to West Shore
Paulus Farm Market in Mechanicsburg is open daily from May through December and on Thursdays, Fridays, and Saturdays only from January through April. In addition to farm-fresh produce, the market also offers baked goods; u-pick flowers, strawberries, and pumpkins; the seasonal Cow Lick Ice Cream Truck, which is participating location on the Cumberland Valley Ice Cream Trail; and an extensive children's play area with farm animals. Fall is a particularly good time to visit with a corn maze, pumpkin chunkin' cannon, hayrides, and a fall fun fort.
The Adams-Ricci Farmers Market in Enola features more than 15 vendors who grow, raise, bake and make from scratch food and a wonderful selection of goods and products. Seasonal fresh fruit, Pennsylvania wines, pasture-raised meat, hot sauce, jerky, and more are available every Thursday from 3 pm to 7 pm.
The West Shore Farmers' Market in Lemoyne, operating since 1950, is a must-stop location with over 50 vendors selling fresh produce, baked goods, doggie treats, deli items, meats, and cheeses. Visitors can also enjoy the boutique stores located on the second floor of the market, where they can find unique items such as jewelry, artwork, books, home décor, and children's clothing.
Learn more about our markets and garden centers.