Doesn't it seem that when company is in town you go to places you had always been intending to go? We've been wanting to try Chen's Asian Restaurant ever since it opened about six or so months ago in Carlisle (they're at 310 N. Hanover Street). You see, we had always enjoyed Chen's King Buffet on E. High Street and were sad to see it close, so we have been very curious to see how things would be at Chen's new restaurant.
My husband's brother and family are in town visiting this week, so along with both of our moms and our daughter, nine of us headed in to Chen's last night for dinner.

As soon as you enter, a really cool water wall greets you, and if you think to look up, there is a beautiful chandelier in the entry. The restaurant is quite nicely furnished. Definitely a spot for a nice date night, or a casual lunch or evening with friends.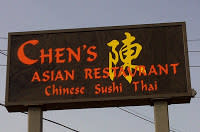 They serve Chinese, Japanese, Thai, Sushi... the menu is HUGE!!  (There is no buffet at Chen's new restaurant, but there is a sushi bar!) After perusing the menu for a bit, we decided that in addition to hot tea and an egg roll for each of us, we would choose 7 different entrees to share. The best part is, in addition to being quite tasty, it's very well priced! You won't go broke even with a large party like we had.

I have to admit, when I was there I wasn't thinking about blogging or I would have paid more attention to the details in order to share with you all. So... you'll have to go check them out yourselves! You won't be sorry. :) They're open seven days a week lunch through dinner.

We definitely hope to visit Chen's again. Or maybe we'll call ahead to pick up some take-out from time to time.