If you've spent any time at all in the Cumberland Valley, you are probably already aware of the seemingly endless outdoor recreational opportunities it presents. Hiking, biking, fishing, skiing, kayaking, camping, horseback riding, caving, climbing; you name it, and the Cumberland Valley probably has it. The Appalachian National Scenic Trail (A.T.), the longest and most iconic footpath in the world, is a well-known feature of this recreational smorgasbord. Though it is a foot-use-only trail, the A.T. provides a wide variety of visitor opportunities, offering a little something for everybody. From the marathon runner to the weekend hiker to the dog walker or the thru-hiker, each can find a slice of A.T. that is ideal for them. But with fame and popularity, there often comes a downside. The A.T., as well as many other outdoor recreation areas, is facing some considerable visitor use challenges.
The Appalachian Trail now receives well over 3 million visitors a year, and to put it bluntly, it is being loved to death. This is especially true in the Cumberland Valley, where an active and growing population likes to get outside. Like every resource, our recreation areas have their limits, and the more we use them, the more it shows. These areas must be continually maintained, strengthened, rebuilt, and protected. While land managers, volunteers, and non-profit organizations are working to protect the quality of these recreational assets, visitors must do what they can to preserve and protect the places we have all come to love and enjoy.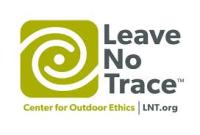 The Appalachian Trail Conservancy has adopted and teaches the seven principles of Leave No Trace to reduce visitor impacts. These simple principles serve as a code of outdoor ethics that can empower the visitor and ultimately lead to a more enriching and enjoyable outdoor experience for everyone. In the long run, the use of Leave No Trace is a proven method for helping to ensure the quality and longevity of our treasured outdoor recreational areas.
The following five hikes in the Cumberland Valley offer a variety of features and unique opportunities for the outdoor explorer. Included here is a discussion of the impacts and challenges that each area is facing and some Leave No Trace tips that visitors should consider when visiting.
Pole Steeple Trail
Pole Steeple in Pine Grove Furnace State Park is one of the most popular area hikes, and for a good reason. This side trail to the A.T. is relatively short, yet a strenuous climb rewards the visitor with a spectacular view of the South Mountain and surrounding Michaux State Forest. What makes this view so special is the fact that you see almost no sign of built structures. It is a rare opportunity for one to look out upon nothing more than nature.
Pole Steeple is greatly impacted by the sheer number of visitors it receives. Trail widening and erosion are a big issue on the blue-blazed trail (A.T. side trail) up to the view. To reduce further damage, hikers should make sure to stay towards the center of the trail and avoid tramping vegetation along the sides of the trail. Large groups are not appropriate for small areas like the view at Pole Steeple, so think about how many people you are with and try to avoid the busiest times of the week or the season. If you do the climb, remember to share the view with others and remember that they may be there to enjoy some peace and quiet. Enjoying yourself is important, but shouting and yelling are best done in a busier area. Finally, remember to pack out your trash. Trash, including food scraps and dog waste, is commonly left behind at Pole Steeple, degrading the quality of the space for all.
A.T. through the Boiling Springs Valley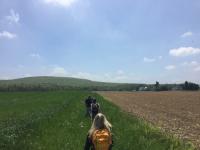 As the Appalachian Trail leaves the South Mountain and travels north towards Boiling Springs and Carlisle, it offers a uniquely open and scenic hike. While so many of the hiking opportunities in the Cumberland Valley are in forested areas, this section of the A.T. offers something a little different. Great for individuals looking for a fast-paced hike with mostly flat terrain, the A.T. surrounding Boiling Springs passes through farms, pastures, and woodland edges, offering a constant change of view and experience. It's common to see both farm animals and wildlife, such as deer, along this section of the Trail.
With its low, flat route through the valley, mud tends to be one of the common trail maintenance challenges in this section. Where the trail is seasonally wet or prone to muddiness, the Cumberland Valley Appalachian Trail Club volunteers often construct puncheon, bog bridging, or boardwalks to keep the hiker high and dry. But mud will likely pop up just about anywhere after major rain events. In this case, the best thing to do is to stay off the trail altogether, but if you can't resist a trail run, be prepared to get muddy. Hiking straight through the center of a muddy area, rather than around, is the best way to prevent trail widening and extensive mud pits. Waterproof boots, and especially gaiters that cover your boots and ankles are excellent gear to have if you are trying to reduce your impact. Respecting wildlife (by keeping a safe distance) and being considerate of neighboring land owners (by abiding by ownership signs) are other important principles to remember when using the narrow Trail corridor of the Valley.
White Rocks Trail
The White Rocks Trail is another blue-blazed side-trail connecting to the A.T. Just south of Boiling Springs, this heart-pumping climb takes the visitor to a series of spectacular rock outcroppings that offer some technical hiking for the sure of foot. While an attraction for rock climbers and avid hikers, the area does not provide the large sweeping views that are available elsewhere.
The popularity of White Rocks has created challenges similar to those at Poles Steeple. Heavy visitation, especially on the weekends, leads to parking violations and trespassing. Hikers not following parking regulations all too often put themselves in harm's way when parking on private property along the busy road. Disrespecting neighboring land owners is problematic because it leads to poor relationships with land managers, and sometimes parking areas must be removed or closed altogether. In general, if you are planning to visit a popular hiking destination during peak times, you should be sure to carpool and have a backup hike in mind if you get to the parking area and find it full. Please don't park along roadways and areas which are specifically marked with no-parking signs. Following the posted rules will go a long way to maintaining good community relations and long-term hike opportunities.
A.T. along the Conodoguinet Creek
As the A.T. crosses the northern portion of the Cumberland Valley, it passes through fields and pastures shortly before arriving at the Conodoguinet Creek. This tributary to the Susquehanna River is a lovely meandering creek. A hike on the A.T. along the Conodoguinet is a wonderful opportunity to spot wildlife such as great blue herons, deer, and even mink. The Trail is flat in this area, providing an easy and leisurely opportunity to enjoy the forest and water.
Proximity to water, and its placement on a flood plain, means that this portion of the Trail is another that is prone to muddiness. This wet, rich limestone soil also is an excellent habitat for unique and rare species to thrive. For these reasons, staying on the Trail is of the utmost importance. While it may be tempting to create new paths down to the creek, staying on the established trails is your best option for helping to ensure long-term resource protection.
A.T. through Michaux State Forest
Michaux State Forest, one of the most heavily visited forest areas in the state, includes 37 miles of the A.T. The Trail follows the South Mountain through Michaux, serving as a sort of spine, from which an additional 60 miles of side-trail connect. The hiking opportunities throughout Michaux are plentiful, typically offering a green tunnel for those wishing to be immersed in nature. Diversity of habitat in the form of meadow openings, water crossings, views, and climbs, are also easily accessible throughout Michaux. If you are looking for a hike that isn't crowded with hordes of other visitors, you have plenty of trail miles to choose from.
Because of high visitation and proximity to development, Michaux lands are constantly threatened by invasive species. Invasive species are both non-native to an area and demonstrate a knack for quickly proliferating and out-competing native species. Invasives can enter our vehicles, firewood, on our footwear, and pets. Following regulations regarding the purchase and movement of firewood is one the best ways to ensure you won't introduce any new exotic hitchhikers to Michaux. Examining and cleaning your vehicle and hiking boots is another easy precaution you can take to reduce invasive spread.
By familiarizing yourself with and following the seven principles of Leave No Trace, you can easily do your part to reduce impacts on your favorite outdoor space. Learn more about the seven principles and Leave No Trace backpacking courses at www.lnt.org