If you are looking to skip the chain grocery store in favor of shopping locally don't overlook the little town of Lemoyne, where you can purchase an amazing variety of culinary delights.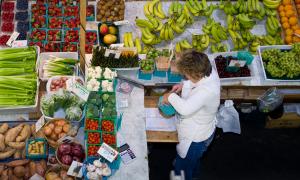 Start your day at the West Shore Farmer's Market, a staple of this community for over 60 years. Open Fridays from 8 am to 5 pm and Saturdays from 8 am to 2 pm, this 60,000-square-foot market is bustling with activity. The lower level features over 40 vendors selling everything from fresh fruits, veggies, meat, and seafood to prepared items, including pretzels, pizzas, tacos, and even dog biscuits. Here you can find everything you need for breakfast, lunch, or dinner. And, don't forget to visit the boutique shops on the upper level.

Next up, head to nearby Macris Chocolates for a sweet treat that you don't want to miss! Choose your favorites from more than 100 varieties of individual chocolates displayed in the bulk case or pick up pre-packed boxed treats. Macris makes everything from scratch using the highest-quality ingredients and you can taste the care that goes into the making of these delicious treats. Or perhaps you want ice cream for dessert? You're lucky because Macris sells a rotating selection of Penn State Creamery ice cream flavors straight from the Berkey Creamery.
Take a short drive to Fraulie's German Deli. This small space is a blast from the past and packed with authentic German canned goods, meats, cheeses, bread, crackers, sweets, and more. Warm and welcoming, this shop is also adorned with German decorations. (TIP: If you really love German food, try Josie's German Cafe & Market in Mechanicsburg. where you can enjoy authentic homemade German dishes for lunch or dinner, or purchase German food and grocery items.)
It may not have a Lemoyne zip code, but One Good Woman is less than a mile away and features fine teas, coffees, kitchen accessories, and gadgets plus a great selection of gift items. Choose from more than 125 varieties of loose tea including black, oolong, matcha, green, white, rooibos, and more. If you are a coffee fan, One Good Woman purchases their beans from around the world and roasts them to individual perfection in small 30-pound batches.
Depending upon how long you linger at each location, you can visit all of these shops in about a three-hour time span. If you picked up ready-to-eat goodies, perhaps you want to stop at nearby Negley Park for a picnic with great views of the Susquehanna River and Harrisburg skyline. Or, stop for a meal at one of Lemoyne's local restaurants.