The Cumberland Valley Beer Trail features over 20 breweries and specialty restaurants. Below you'll find 10 fun facts about some of the locations. Each location on the Beer Trail is different, so grab your passport and find your favorite.
1. Al's of Hampden has an astounding draft list of over 100 beers on tap, including their own Pizza Boy options.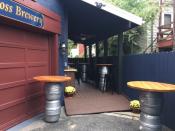 2. Market Cross Pub & Brewery's outdoor Beer Garden is a quiet spot where you can sample their brews and snack on appetizers.
3. While Castlerigg Wine Shop is obviously known for its PA wine selections, they also offer beer from the Lancaster Brewing Company.
4. For those coming to Carlisle for the famous car shows, you can walk from the fairgrounds and grab a pint at Desperate Times Brewery.
5. For the designated drivers of the group, Grand Illusion Hard Cider has craft sodas on their menu with fun flavors like grape smoothie and blueberry birch.
6. Ever Grain Brewing Co.'s food is as funky as their brews. Appetizers include maple and scallion hush puppies, whole chicken wings and venison meatballs.
7. The Millworks isn't just a brewery, they also have 3 art galleries, 18 artist studios, a rooftop Biergarten and a local, sustainable restaurant.
8. Tucked inside Burd's Nest Brewing Co., you'll find sandwiches, soups and salads from the local favorite Spoons Cafe.
9. The Vegetable Hunter is a boutique brewery and favorite stop for vegans and vegetarian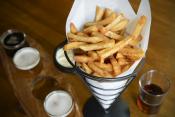 s. Their small batch brews are made to complement their dishes and use creative, high-quality ingredients. 
10. Cafe Bruges has over 100 hard-to-find Belgian beers to pair with their authentic menu.
Discover these and more on the Cumberland Valley Beer Trail.