The first thing you notice when you enter The Loft Eatery is a sign that says "Love What You Do". Jennifer Stretch and her Mother Mary Jane Werley truly do love their restaurant and it shows. The ladies have been in the restaurant business in some capacity for many years. In 2009 they bought a food truck together and served lunches from it. Their homemade recipes were a big hit as they would park it throughout Harrisburg. They then decided to sell the truck and went back to working at various restaurants. One day, years later, Jennifer saw an ad on Craigslist for an empty restaurant space that had all of the kitchen equipment included.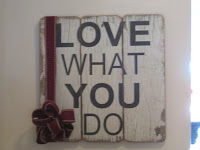 In October 2014, the ladies got started on making a place that was "warm and homey" and would use their family recipes. In the beginning, they catered for Gray Water Ops before they even opened for business officially. They had just 3 days to clean up the restaurant and get all of the equipment ready to use just to do the catering. The ladies' motto is "do whatever it takes, do whatever has to be done" and they did. Afterwards, all of the guests asked "When are you guys opening?" because they loved the food so much. 

Some of their bestselling recipes include: apple dumplings and meatloaf, along with the "Doughboy" sandwich at breakfast. Mary Jane and Jennifer wanted to take their family recipes and "modernize them to keep up with the trends" in the restaurant business. 

New Cumberland has welcomed them very well and now the ladies look forward to becoming a big part of the community. They joined the small business associate group and are doing a presentation at the New Cumberland Business monthly meeting. The restaurant has rooftop dining and the dining room can be rented out for private parties. Also, the ladies enjoy catering lunches and customize the menu for each order. The Loft Eatery is a restaurant where you will get delicious food along with great service from people that truly love what they do.

- Christy Bolton, NewCumberlandPA.com
Christy moved to the West Shore ten years ago and into New Cumberland in September 2012.  
She really enjoys living here and getting to know the community better every day. Christy also enjoys spending time with family, friends and her dog. 

To read more blogs like this from Christy, click here.