The last working day of each month, CVVB staff takes a FAM tour to better engage ourselves in the community and the attractions we promote. June's FAM tour was supposed to be a leisurely ride along 11 miles of the Cumberland Valley Rail Trail - a once railroad bed that has been converted into a hiking/biking/equestrian trail open to the public, stretching from Shippensburg to Newville.
To really appreciate our experience, I think you first need a short introduction to our staff members.

Shireen (Director of Tourism): Shireen is the iron fist of the bureau - if we need something done, she will make it happen. We have seen her take down obstacles in our path like no one else. Ironically, she is also the smallest member of our team.

Dawn (Sales Manager): Dawn is the most motherly member of our team. She is always multitasking (which can prove to be quite frightening at times) and also the scrappiest. In short, don't mess with Dawn.

Valerie (Marketing Manager): Valerie is the girly girl in our office. Always dressed to impress, her artistic talent often spills into every day activities. Although she enjoys the outdoors, she is also the most likely to scream when a bug lands on her. We've seen it happen.

Kristen (PR Coordinator): Kristen is always willing to lend a hand, as well as a sassy comment or saying that will garner a chuckle from whoever is nearby. She somehow finds herself in various awkward situations, which often lead to hilarious stories.

Rafael (Graphic Designer): Rafael is one of the hardest workers I've met - to the point that he rarely leaves the four walls of his office. Normally very quiet, his occasional remarks are witty and leave the rest of the staff laughing hard enough they get side stitches.

Katherine (Sales Coordinator): Katherine is the newest member of our team, and so far has put forth a very positive "yes" attitude to anything thrown her way. A Carlisle local, she can direct you to the best, "never would have guessed that would be good" restaurants in town.

Me - Ashley (Marketing & Visitor Services): The "country bumpkin" of the group, I've lived in Perry County my entire life. Although I live in the woods, I don't necessarily want to spend that much time in them.

Now that you know the players, it's time to relive our experience.

We could not have picked a more beautiful day to take on this adventure. The sun was shining, the sky was clear and the humid "I'm going to sweat to death" weather has been replaced (for now) with a pleasant 80 degrees.

We started the day with a bike/vehicle shuffle that would take entirely too long to explain. Just know that transporting seven bikes, staff members, and several vehicles can be a tricky feat.

10:35 a.m. Shippensburg Trailhead: It is important to note here that out of seven staff members, only two own bikes, and those two bikes have not been ridden in several years. Keep that in mind as you read on.

I'd also like to give a quick shout-out to Tamela from 18th Century Inn for making this ride possible for us! Not only did she loan us four of the seven bikes we used (none of the following bike issues came from these bikes, either... just the ones we provided!) but at the last moment she even loaned us her truck to help with the vehicle/bike shuffle! Her charming B&B is located about two miles from the Newville Trailhead and if you stay there you can borrow those same bikes and try for a similar adventure--if you're daring.

As we examine our borrowed bikes, we try to decide which bike is best suited for each member of the team. Many of us end up on mens' bikes, which prove to be too tall for our 5'5 ladies. Mistake one of the day: the tools required to adjust bike seats are in one of our cars in Newville, and we are at the Trail Head in Shippensburg.

When we figure out the bike assignments, we take off. What a disaster! I dropped my bike (oops!), Rafael ends up in a bush and Kristen shakes her bike to the very core (all the while blaming in on the bike). Dawn, Katherine and Shireen leave us in the dust while Valerie stays behind to keep an eye on us stragglers.

Mile Marker One: My bike is making tons of noise, and the chain keeps slipping. What to do? Surprisingly, Valerie comes to the rescue, quickly identifying and fixing the problem. Since everyone else is in front of us, we start peddling to catch up to the rest of the group.

Mile Marker Two: Still catching up to Rafael and Kristen. Dawn, Katherine and Shireen are oblivious to the fact that half of the staff is not, in fact, behind them. I nearly sideswipe Valerie with my erratic cycling.

Mile Marker Three: We catch up to Rafael and Kristen - pulled over on the side of the trail. As we peddle closer we see that Rafael has blood on his shirt and is cleaning wounds with bottled water. He valiantly saved Kristen from a Mountain Lion and received some scratches to prove it. Nah, just kidding. He tried to avoid hitting a little girl and wiped out, scraping his leg, arms and fingers. Mistake two of the day becomes evident as no one brought a first aid kit. Once again Valerie comes to the rescue fashioning makeshift band aids from Subway napkins and hair bands.

Mile Marker Four: We catch up to the rest of the group. Dawn has a flat tire (and ironically, an air pump). The tire has a hole so it won't hold any air. We're a mess at the moment, so we take a quick photo in case this is the furthest we make it on the trail. At this point the score is CVRT-2 and CVVB-0.

Mile Marker Five: The group starts in another cluster. Rafael erratically swerves all over the trail, sideswiping Dawn in the process, when we realize his earlier crash left his bike seat completely crooked. A straightening of the seat and he's on a much more predictable path. We stop for another photo op in front of a great farm setting - everyone stops safely, including Rafael (who somehow managed to stop in the ditch).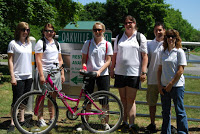 Mile Marker Six: Finally over halfway through our journey, we stop for a quick breather. Body parts are beginning to ache as we realize we made mistake three of the day: we forgot to stretch.

Mile Marker Seven: Mistake four: no snacks. It's almost lunch time and we're hungry!

Mile Marker Eight: Trucking along with her flat tire, Dawn pulls out her Blackberry to check a text. Seriously? We stop for another photo op.


Mile Marker Nine (I think): The only hill we encountered on the trail. After cycling viciously for the last nine miles, Shireen realizes that she can change gears on her bike to make it easier. Mistake five: changing gears while going uphill. The chain breaks loose at the top. Thinking the trail may have finally won, Valerie once again comes to the rescue.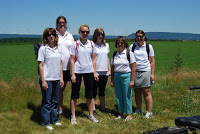 Mile Marker Ten: We meet some friendly chipmunks that want to play chicken with our bikes. Only slightly scary.

Mile Marker Eleven: We're almost there! We've finally gotten into our stride, with Shireen and Katherine leading the pack, followed by Valerie and Kristen, followed by Ash (me), Flat (Dawn) and Crash (Rafael) tucked safely behind the rest of the members where he can cycle as erratically as he pleases. I've got my rear-view mirror set to keep an eye out for anymore unexpected obstacles he may miss.

12:15 p.m. Newville Trailhead. We made it! Despite our obstacles, we all agreed it was a fun trip. The weather was perfect, the farmland scenery was beautiful, and once we stopped trying to wreck into each other the journey was actually quite relaxing.We passed several people on the trail that looked like they were having a great time. If you enjoy taking photos, this is a trip for you! Bikes optional, of course.

We're all starving, so we drive to the new restaurant (Kane's) in Newville. They are packed, so we take a tip from our dining guru Katherine and travel to Miseno's on Route 641. Rafael puts on some proper bandages (Dawn being the ultimate mom keeps them in her car) and we all enjoy delicious subs and sandwiches.

In Retrospect: Biking the 11 miles of Rail Trail was much easier than I had ever expected. There were a lot of problems, but to be honest, they were all operator errors. Learn from our mistakes and be sure to do the following before taking the trip yourself:

1. Make sure you have a bike in good condition. No matter how flat and level a trail is, you'll be uncomfortable if the bike doesn't fit you. Also make sure your tires are in good shape before taking off!

2. Bring a first aid kit, or at the very least, some antiseptic wipes and band aids. Also have a cell phone in case of a real emergency.

3. Get a good stretch in before you start.

4. Be sure to have plenty of water and snacks. There were soda/snack/restrooms at the trail-heads, but don't expect any amenities in between.

5. Know how to use your bike. It will save you a lot of energy in the long run.

Other points to note:

There are several points on the trail where you must cross a road. Always be sure to look both ways before crossing.

Located around the six mile mark, Oakeville Road crossing has some parking that would be ideal for a shorter trip or stashing a picnic lunch.

Be courteous to others on the trail – leave no trace. Please also note that the trail runs through private property – please be respectful of this!

The Cumberland Valley Rail Trail is maintained by the all-volunteer, non-profit group Rails to Trails. They maintain this public trail with funds generated from memberships and private donations. If you enjoy the trail, consider donating funds or volunteer time. www.cvrtc.org

Memorable Quotes of the Day:

Ashley to Kristen: "I'm interested to see who the first person to give up will be." *Pause* "I fear it may be me."

Valerie to Kristen: "11 miles seems ambitious for people that don't even own bikes."

Kristen to Valerie (as her bike shakes erratically): "There's something wrong with my bike."
Valerie: "I don't think that's the bike."

Rafael: "I'm okay!"

Valerie to Group: "I don't think we should have worn our (company) shirts. If we don't finish, people will know it was us."