Cumberland Valley, located in the heart of south-central Pennsylvania, is blessed with serene and stunning landscapes that provide a relaxing respite from the daily hustle and bustle. Whether you are a local who just needs to get out of the house or a visitor planning a future trip, these hikes promise a bit of beauty and calm.
Easy Hikes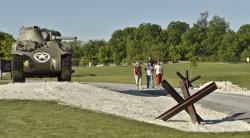 Begin your leisurely hiking journey in Cumberland Valley along the Army Heritage Trail at the U.S. Army Heritage & Education Center. This mile-long loop trail is the perfect warm-up or wind down for any day outdoors. While on the trail, experience an interpretive timeline of U.S. army history. Large military exhibits include a Huey helicopter, tank, Civil War cabins, and WWI trenches. 
Easy hiking and biking can be found on the county's western side at the Cumberland Valley Rail Trail. This 13-mile trail follows the abandoned railroad tracks from Shippensburg to Newville. Most of the trail is two-tread with grassy, hard-packed earth perfect for equestrians and packed stone dust for hikers and bikers. The trail also features interpretive signage detailing the agricultural and historical significance of the trail and surrounding lands. A one-mile section of the trail is also open in Carlisle at Allen Road. Take a break from your hike to check out the recently-opened Cumberland Valley Railroad Museum at the Shippensburg Station trailhead.
Enjoy a casual stroll away from the hustle and bustle on the Cumberland County Biker-Hiker Trail, which winds through scenic Pine Grove Furnace State Park. Entrances to the trail can be found at the beautiful Laurel and Fuller Lakes, and the 3-mile out-and-back trail is ideal for easy hiking and biking. 
Discover tranquility and a peaceful respite along the LeTort Spring Run and Nature Trail, located just a short walk from historic downtown Carlisle. This 2-mile hike on a 6-foot wide crushed stone path follows one of the finest limestone trout streams in the country, LeTort Spring Run. The variety of habitats along the trail makes it an ideal location for bird watching.
Moderate/Difficult Hikes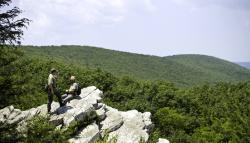 If you are ready for a real challenge, take on one of the more difficult hiking trails in Cumberland Valley. 
Sunset Rocks Trail's rewarding 8.3 miles includes short climbs that lead to beautiful views and the ruins of a top-secret World War II POW camp. This trail takes you through the Michaux State Forest for opportunities to see an assortment of plant, tree, and wildlife species. Download the Camp Michaux Walking Tour for more information. NOTE: There is a short section of two-handed climbing over boulders. Click here to read more about Purple Lizard Maps and their journey to explore Camp Michaux and Sunset Rocks.
Flat Rock Trail, located in Colonel Denning State Park, is a difficult hike with a very worthwhile ending. This 5-mile (round trip), strenuous hike climbs over 900 feet in elevation and ends with a half-mile of climbing over rocks to a stunning vista of Cumberland Valley. Make sure you wear good, sturdy shoes, and bring a trail snack and lots of water.
The short (.75 miles), but steep, hike up to Pole Steeple results in an excellent viewpoint for the central ridge of South Mountain. From the top, you can see the Sunset Rocks on Little Rocky Ridge and, nearly 500 feet below, Laurel Lake with its beaches and dams.
Appalachian Trail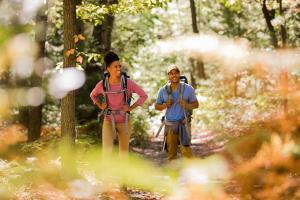 Cumberland Valley is the perfect destination to experience the famous Appalachian Trail. Our portion of the trail has been described as a "thru-hiker's dream" due to our easy, flat surfaces. View detailed journeys along the Appalachian Trail.
Appalachian Trail Access Points
Boiling Springs – The official Appalachian Trail Community of Boiling Springs contains a parking lot and portable toilets for hikers along Bucher Hill Road. Follow the AT blazes across Bucher Hill Road, along the famous fly-fishing stream Yellow Breeches Creek and Children's Lake. You can also head south on the AT, crossing a beautiful historic stone bridge, zigzagging through farm fields, and taking a steady climb up South Mountain to Center Point Knob, the original halfway point of the trail. 
Ironmaster's Mansion – The historic Ironmaster's Mansion in Pine Grove Furnace State Park serves as a hostel for AT hikers. Continue south to see the prominent marker showing the current midway point of the trail. 
Pine Grove Furnace State Park – Various parking lots are located in the park. Visit the Appalachian Trail Museum, then follow the white blazes south, past the General Store. This is where thru-hikers stop to celebrate reaching the trail's midway point by eating a half-gallon of ice cream. 
Scott Farm Appalachian Trail Work Center – Parking, a water spigot, and portable toilets are available at this site. Cross the bridge on the pedestrian walkway and head south on the AT. White blazes lead the way; double blazes indicate a turn or prominent landmark. Continue left into the woods along a wooden boardwalk. For an alternative hike, turn right and follow the trail along the Conodoguinet Creek. 
View all of our hiking opportunities.
Dining & Lodging Suggestions
When it's time to enjoy a weekend getaway again, some dining and lodging suggestions will make your trip an ideal escape.
While in Boiling Springs, grab a slice of pizza at Anile's or enjoy a hearty meal at Caffe 101. For a more luxurious experience, plan for dinner at The Barn at Allenberry Resort, followed by an overnight stay at the resort.
While visiting Pine Grove Furnace State Park, stop by Twirly Top Drive-In for a delicious cheeseburger or sundae. This retro drive-in has been serving up the classics to locals for years. Nearby B&B options in Carlisle include Fallen Tree Farm, Carlisle House Bed & Breakfast, and The Smith Steiner. View all of our lodging options here.