Cafe Magnolia
in Mechanicsburg and wanted to give their dinner menu a try. I have had lunch there once before and the atmosphere is very cozy and welcoming.
The restaurant itself is a renovated house and although the dining room is small you don't feel cramped. We both ordered off the special Chocolate Covered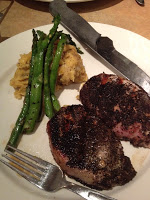 February menu where each dish was made with some sort of chocolate ingredient. I got Cocoa Rubbed Pork which had a really yummy cocoa and coffee crust on it. It came with the best mashed potatoes I think I've ever had and asparagus. My fiance ordered Chocolate Stout Chicken which was made with a chocolate BBQ sauce and came with a loaded sweet potato and broccoli. I would definitely make time to fit in Cafe Magnolia while this promotion is still running!