One of the most popular places in town, Café Bruges, is a must for those wishing to try its famed twice fried frites (I like mine with the house made curry ketchup), locally raised beef Bruges Burger, or the constantly-changing array of soups, like leek and potato or tomato bisque. Café Bruges offers more than 100 imported Belgian beers and seasonal flights to accompany the Sirloin steak frites or handmade, locally raised beef burger. After a long week of classes and homework, settling into the café's cozy atmosphere with piping hot frites and good company is a well-deserved escape.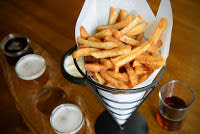 The Carbonade Flamande, Flemish beef and dark ale stew, served with parsley potatoes and hunks of country bread, is the perfect winter dish, but really any season it is so good! The crab cakes are a Bruges staple, served with a side salad or as a sandwich, daily selections of soup and quiche, my favorite being leek, round this restaurant out to cater to everyone preferences!
There are seven house made sauce choices for the frites and seven styles of mussel preparations for the Moules Frites main dish, ranging from Bruges' own recipe of white wine, shallots, butter and parsley to a Thai fusion with coconut and red curry.  In addition to their main menu, Sunday brunch is the perfect way to celebrate a birthday or a spontaneous get together with the girls.
I usually order the Eggs St. Michaels, which is poached eggs with house made crab cakes and fresh hollandaise, someone always orders the pain perdu with a seasonal center, my favorite is cinnamon vanilla Chantilly cream, and it wouldn't be a Belgian eatery without the Brussels waffle topped with fresh fruit compote, whipped cream and rich, dark Belgian chocolate sauce! Café Bruges is a truly a Carlisle staple! 
-Savanna Riley
Savanna Riley is a junior at Dickinson College, studying Political Science and Security Studies. Australian-born and California raised, Savanna sought out the quintessential college town and found it in Carlisle, PA. She is the programs coordinator Intern at the Stuart House Salvation Army downtown and works as a writing associate for students on campus as well as international fellows at the Army War College. She serves as an all-college senator, working to create, fund and support events for students in Carlisle and the surrounding area. In her free time, she can be found reading on Rush campus, wandering around downtown Carlisle or shopping at Farmers' on the Square!