In less than one short month, I will be back wandering through the academic quad, eating lunch out on Britton Plaza and frequenting all my favorite restaurants that I have missed after a year abroad. As a senior at Dickinson College, I have a big year ahead of me – in the midst of being Co-Editor-in-Chief of The Dickinsonian, I am part of Greek Life, will be writing a thesis for my Philosophy major, am a Global Ambassador representing my study abroad programs in France and Cameroon, a volunteer with Big Brothers Big Sisters and have to find time to apply for post-graduation jobs. Yet, somehow, I am more excited than stressed or overwhelmed to return to Carlisle after a year abroad.
I cannot deny that after a year of taking classes in French, living with French-speaking families and taking public transportation or taxis to and from school, Dickinson will feel different. It is almost like I am starting over as a First Year again, except that I already have friends, have organizations I am a part of and know the campus like the back of my hand. But I have yet to see the new gym, have not seen most of my friends for a full year and have not been part of the American education system.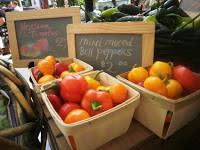 Farmers on the Square
The Carlisle community is calling me back, enticing me with its' family owned restaurants, weekly Farmers on the Square and fall leaves. My first stops will be Issei Noodle and every college student's favorite, Miseno's. But besides the affordable, delicious restaurants with a homey and welcoming atmosphere, I am looking forward to Dickinson's proximity to the downtown streets, the diverse group of people you find in Carlisle, ranging from college students to families to the elderly, and the perfect getaway from a large city.
Even though it has been a while, I know that as soon as I step back onto campus and wander the streets of Carlisle, it will feel like I never even left. And that is what I am most looking forward to: returning home.
Jessica is a senior at Dickinson College, double majoring in Philosophy and French. As an England native and current California resident, she sought out a small East Coast school with a welcoming community and homey college town as a midway point. She is the Co-Editor-in-Chief of Dickinson's campus newspaper, the Dickinsonian, is a member of Greek Life and volunteers with Big Brothers Big Sisters. Her junior year was spent fine-tuning her French skills in Toulouse, France and Yaoundé, Cameroon, two programs that she now represents as a Global Ambassador.  Jessica hopes to use her experiences to explore a career in the Journalism and Communications fields.