As throngs of
Dickinson
students make their annual voyage back to the land of Adirondack chairs, and incoming first years step foot onto campus for the first time, Carlisle is thriving with life. Back-to-school vibes can be felt throughout the streets as parents take their students out for the "last meal" before they depart, and rented minivans appear near all of the first-year dormitories. Upperclassmen residential advisers and athletes meet new families and carry the new students' belongings to their new homes, this age-old tradition, however, does not continue throughout the following three years.
Friends who have been on yearlong adventures for their study abroad experiences recount their stories, professors who have been researching and completing scholarship welcome students back into the classroom, and administrators are busy planning student activities for the year. As the College comes to life once more, students venture around the limestone walls and throughout town to see what has changed and to be reassured of what has stayed the same.
While new students will receive a glossy poster highlighting 101 things to do before graduating, we thought compiling a shorter list of must-do activities for first-year students would provide some guidance and inspiration.
1. Explore Carlisle Beyond High Street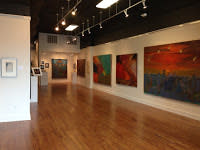 Carlisle Arts Learning Center (CALC)
Ian Hower (Class of 2016), Dickinson Student Senate President, says,
"I think every first year should explore Carlisle beyond High Street.They should explore their local community, meet the people, seek out unique shops, places and people and savor being in a place unlike the city we will all move back to in four years."
 Spoons Cafe on W. Pomfret Street makes great sandwiches with house-roasted meats and their hearty soups, made fresh daily, are perfect for Sunday afternoons in the fall. Pomfret Street also holds an art gallery (Carlisle Arts Learning Center), a tearoom (Camellia's Sin Tea Room and Gift), an artists' studio (The Artists Market), and several shops with artisanal gifts. Fay's is the perfect location for an inexpensive breakfast. Just be sure to bring cash. They don't accept cards.  
2. Have Breakfast at The Carlisle Diner at 2 am.
The Carlisle Diner
, located just passed Biddle Field across from the Old Kline, is a staple establishment that will soon become your go-to place for pancakes in the middle of the night.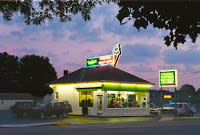 Massey's
3. Have an Artic Mount at Massey's
An Artic Mount is handmade with your choice of frozen custard flavor and toppings; thicker than a milkshake, but smoother than just normal scoops, the artic mount is
Massey's
own creation and a must-have with the August heat. They are even popular in winter as Massey's is open year-round.
4. Go On an
Outing Club Adventure
Elizabeth Marin (Class of 2018), Liberty Cap Society (Tour Guide) and Varsity Tennis team member, suggests,
"Dickinson is all about trying new things and facing challenges, which the Outing Club adventure really embodies. I learned how to rock climb and have discovered a deep love for hiking and the outdoors due to this club. I think it also allows students to explore something else to do on the weekends, particularly with the camping and hiking trips. It will help you find a love for the outdoors as well as nature, something incredibly necessary to our community of Dickinsonians."
Wagner's gap and King's gap are great hiking places and several outings are organized throughout the year by the Community Service office, the campus chapter of Habitat for Humanity and other outdoors focused organizations.
5. Go to One Sporting Event
Basketball games always pack the Kline Center as supporters dress in red morph suits and halftime shows are covered by the many dance and a cappella groups on campus. Football games in the fall are always well attended with high energy on Saturday afternoons as a study break. It helps that Massey's is just outside the gates for a halftime snack. Men's and women's lacrosse and soccer games are scheduled at a variety of times so you will be able to see the Red Devils crush our opponents at least once! All team schedules are posted online at Dickinsonathletics.com. If you only have time to see one game, make sure we are playing Franklin and Marshall as the Red Devils and Diplomats always put on great games. (If you cannot attend, all home games are broadcasted online at Dickinsonathletics.com)
6. Find a Favorite Study Spot That Isn't Your Room
Sophia Brocenos (Class of 2017), Synergy Dance Team and Kappa Alpha Theta Member notes that finding an alternative study space is key. Whether it is an alcove in Rector, the reading room in the lower level of the Stern Center, a study room in the Library, or an Adirondack chair on Morgan field, finding 'your' place will make studying that much better.
7. Go to One of Your Professor's Office Hours
All professors will have at least 3 hours of office hours a week, where they will be available to answer questions about material from class, clarify assignments, and talk about Dickinson or your interests in general. This is the time to make efforts with your professors and build relationships, as Philip Morabito (Class of 2017) College Democrats and Liberty Cap Society (Tour Guide) wisely recommends.
The Dickinson Archives is a treasure trove of absolutely useful and useless artifacts and keepsakes. Stocked by alumni, archivists and students, this is the place to find every newspaper article published on campus, every yearbook since 1783, Joseph Priestley's entire laboratory apparatus collection and family's papers, a flag stolen from Hitler's yacht, a china teacup set from President Buchanan's (Dickinson Class of 1909) time in the White House, a now slightly deflated football from 1931 when the Red Devils beat Penn State (the last time they agreed to play us) and a book bound in human skin. Students will also use this space to complete homework, conduct research and use the almost infinite resources, both digital and hardcopy, all organized by Jim Gerencser, the main archivist and a Dickinson alumnus.
9. Visit the College Farm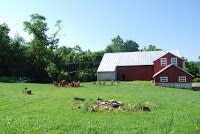 Dickinson Farm
Just seven miles down the road from Dickinson's main campus, a
working farm
provides 80% of the produce we eat on campus, summer and yearlong student jobs, research space and an oasis for student group meetings. On Saturday afternoons, students can volunteer to harvest seasonal vegetables and on Wednesdays from 3-7 pm, you can support the farm and pick yummy produce from the Farm at the Farmer's Market in town. Students run a stall and sell everything from spring onions to kale to fresh made spicy strawberry salsa.
10. See a Show or a Movie at The Carlisle Theatre
Carlisle Theatre
The Carlisle Theatre
, located on High Street is home to live stage productions as well as screenings of movies that you might not see on the big screen at the Regal Cinema by Wal-Mart. This theatre is beautifully restored inside with grand red velvet curtains, plush old-fashioned seating and boxes high above the orchestra level seating, all in 1930's Art Deco brilliance. Be prepared to watch stimulating, thought-provoking Sundance Movie Festival successes, or programming for families and children.
You have four years to complete your adventure in Carlisle, throughout Cumberland Valley and perhaps across the world if you choose to study abroad, however this list provides just a taste of what students find important to their experience and think are essential to craft themselves as Dickinsonians for life. 
-Savanna Riley
Savanna is a junior at Dickinson College, studying Political Science and Security Studies. Australian-born and California raised, Savanna sought out the quintessential college town and found it in Carlisle, PA. She is the programs coordinator Intern at the Stuart House Salvation Army downtown and works as a writing associate for students on campus as well as international fellows at the Army War College. She serves as an all-college senator, working to create, fund and support events for students in Carlisle and the surrounding area. In her free time, she can be found reading on Rush campus, wandering around downtown Carlisle or shopping at Farmers' on the Square!