So it's the middle of January...we are all starting to forget/give up on our New Year's resolutions. I feel like every year around the third week of January I start thinking of excuses why a particular resolution was a bad idea in the first place. If you are starting to feel like me don't abandon all hope just yet! There are lots of places in Cumberland Valley that can help with New Year's resolutions and might give you the extra boost you need. Below is a list of  four of the top resolutions and places in the Valley I believe will help you continue to improve yourself in 2013.
1. Exercise More - It is so much easier to work out and get in shape if you enjoy what you're doing. Try something different this year.
Burn some calories skiing or snowboarding down the slopes at Roundtop Mountain Resort. Don't know how? They'll teach you! If downhill skiing sounds a little too intimidating try cross-country skiing at Pine Grove Furnace State Park.
Most people think of hiking as a spring and summer activity but Kings Gap Environmental Education Center offers really cool winter hikes that will keep you moving with beautiful views of the Valley.
Learn how to rock climb indoors at Climbnasium. This facility offers extensive bouldering areas and climbs up to 40 ft. high. When spring rolls around you will be ready to tackle the great outdoors!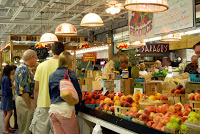 2. Eat Healthier - Why is this one always the hardest?!
One spot that helps me stay on track is the West Shore Farmers Market in Lemoyne. I think it's all about atmosphere. This farmers market is huge (60,000 sq. ft. to be exact). They have everything you could want from fresh meats and cheeses to fruits and vegetables. These fresh ingredients will inspire you to cook good-for-you meals! Plus it's open year-round.
Cumberland Valley restaurants also offer great menu options that allow you to eat better and still enjoy a night out. Try The Green Room Bistro & Juice Bar in Carlisle or Fraiche in Camp Hill. Find more restaurants here.
3. Find a New Wardrobe - For all of you out there looking for a new look, the shops in Cumberland Valley can definitely help you find your style.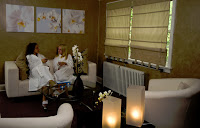 4. Reduce Stress -We all deserve a stress free 2013. While that may be an unachievable goal there are certainly things we can do to reduce the stress in our lives this year. 
When stress starts to hit schedule a massage or other relaxing treatment at one of the Valley's day spas. If you want to try something completely different visit the Salt Cave at Tranquility Salon & Wellness Center.
Kick off your year of reduced stress with an indulgent weekend in Cumberland Valley. This trip idea includes relaxing day spas, great dining and more!
When the weather starts to warm up this spring follow the 6 Places to Find Zen in Cumberland Valley trip idea for beautiful outdoor views.
Happy 2013!