However, when within viewing distance of the tents the first thing I noticed was this larger than life sized red character… and I wasn't 100% sure so I didn't want to get Cole's hopes up… so I tried to distract him while also moving closer to this creature/person/thing.  And sure enough, when we got close enough to confirm his identity, Cole took off like a rocket! It was ELMO!!!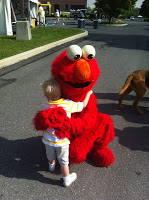 After meeting his hero, Cole got several snacks, lots of goodies, played a couple of games and got his first taste of cotton candy (The teenager serving it handed him some without asking me first! LOL – I HATE cotton candy.).  It was actually kind of hysterical because he carried it around like a trophy for about five minutes before he realized that it was food.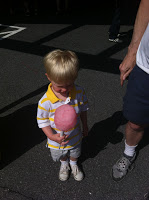 In addition to all of the fun for Cole, there were also bike helmet fittings from Cole's Bicycles, Child Seat Safety Checks conducted by PA Highway Safety and best of all… Cole was weighed and measured, finger printed, and had his picture taken for his very own ID card! To me, this is not only a precious keepsake that I'll hold on to, but an extraordinary precaution in case anything ever happens to him!
All in all, one of the best little fairs for toddlers and up! What a lucky thing that it was the same day as the Centurylink Yard Sale next door
J
.