January 8-15, 2022
For a tradition that's lasted over a century, Pennsylvania celebrates its agricultural prowess during January's Pennsylvania Farm Show. The PA Farm Show is the largest indoor agricultural expo in the United States, with nearly 6,000 animals and over 10,000 exhibits, all taking place at the Farm Show Complex in Harrisburg. Not only are the animals fun to see, but the food is legendary.
After a virtual event in 2021, the 2022 in-person event promises new things to do, see, learn, and taste.
The Animals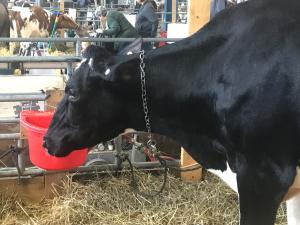 The PA Farm Show offers an up-close look at animals and livestock through the vast Farm Show Complex. Animals include cows, rabbits, pigs, sheep, alpacas, chickens, goats, lamas, and horses. Along with visiting the animals, there are showings, competitions, and demonstrations.
New for 2022
Canine Spectacular – Our furry best friends are also working wonders on the farm. Come be wowed by canine smarts, speed, and agility in the Equine Arena on Thursday.
Webbed Wonders – Our fan-favorite fluffy ducklings in the Water Fowl Habitat in the poultry hall will be both online live-cam and live after wild success during the 2021 Virtual Farm Show. From the comfort of your couch or up close in person, see how these webbed wonders work with an underwater view.
Bunnies –  Multiplying true to bunny form, two new breeds of rabbits are hangin' in our hutch. Find out what Dwarf Papillon and Polish Lilac have in common with tiny butterflies and purple posies.
TIP: Be careful where you step!
The Food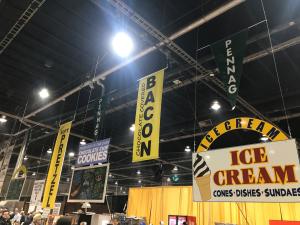 The Farm Show Food Court will leave you in awe once you walk in. Representing the best in Pennsylvania's agriculture, you'll find stands for beef, poultry, potatoes, cheese, desserts, and more. The famed Farm Show milkshakes from the PA Dairymen's Association are always a hit. There's also a section with PA Preferred items, like maple products, fruits, honey, vegetables, wines, hard ciders, and so much more. In addition to foods to eat and take home, there are food demonstrations and cooking classes to look out for as well.
New in the Food Court for 2022
PA Cooperative Potato Growers tempt you to stop by for a pierogi. You're in for a treat if you haven't tried this PA favorite by way of our Polish and Russian roots.
Mushroom Farmers of Pennsylvania will offer melt-in-your-mouth shredded portabella nachos, savory wild portabella mushroom jerky, and fresh packaged mushrooms for you to take home and whip up mushroom culinary magic of your own.
PA Vegetable Growers Association has added vegetable stir-fry, veggie burgers, and veggie corn dogs to its menu of tasty, wholesome PA-grown treats.
The State Horticultural Association of PA is getting in the culinary act with apple salsa, apple sauce pouches, and apple cotton candy.
The PA Livestock Association has added beef jerky snack sticks to its meaty line-up of favorites.
C&J Catering will have Momma D's pork & kraut bowls and shepherd's pie bowls to feed your meat cravings.
For the first time, you can buy your favorite brew to take home and let the taste of Farm Show linger. 121 artisan-crafted brews from 24 breweries were part of the 2022 Farm Show Beer Competition, an event that premiered in 2019. Now, in 2022, these products can be sold during the show. You can swig a sample and maybe even take home a Best in Class, Best of Show or a PA Preferred® Legacy Award winner.
TIP: Don't rush your decision on food. There are a plethora of delicious items and you'll only be jealous when you see someone with something you didn't get. Always leave plenty of room for a milkshake.
More To See & Do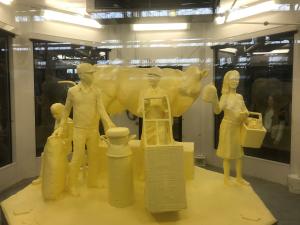 Tractor-pulling, rodeos, and square-dancing are among some of the other activities to watch and enjoy at the Farm Show. There's also a half-ton sculpture made out of butter that you have to see for yourself.
New for 2022
Bethlehem's National Museum of Industrial History is among new stops for kids in the Ag Explorer educational scavenger hunt. Kids can stamp their passports and learn about Pennsylvania's beginnings as we grew into the national and world agricultural leader we are today!
Virtual educational adventures will surround the New Holland Arena 2nd level concourse in Nuts for You, interactive learning experiences brought to you by PA State Police, PA Farm Bureau Friends of Agriculture Foundation, and more.
Check out Cowboy Church in the New Holland Arena Sunday morning the 9th for a nondenominational down-on-the-ranch-style service. Bring your singin' voice and spurs if you got 'em.
In the Main Hall's So You Wanna' Be a Farmer section, where you can learn all you need to grow your groceries or your hobby or earn a living, whatever size plot of land you have, find a new Urban Gardening feature – Reinventing the Corner Store with Philly's FarmerJawn CSA. Be wowed by wonders in small spaces, reclaiming and regreening city spaces to feed and unite neighborhoods.
Learn what it takes to be a rodeo clown, barrel racer, or rodeo queen during the Frontier Finals Rodeo. Meet star competitors and rodeo luminary Anthony Lucia of Live with Lucia. Thrills and new features are jam-packed into three days of rowdy, raucous rodeo Jan. 13-15!
If noisy engines and raw power are your thing, the Truck & Tractor Pull Demonstration in the Equine Arena on Saturday the 8th is the place to be.
Join the Farm Show Junior Committee for an all-comers Cornhole Tournament Tuesday at 5:00 p.m. and Country Line Dance-off Wednesday 5:30 pm to 7:30 p.m., both in the New Holland Arena.
The 2022 Pennsylvania Farm Show runs from January 8 through January 15. Admission is free and parking is $15 in all Farm Show complex lots. There is free shuttle service from all Farm Show-managed off-site lots. Farm Show organizers suggest that the best time to arrive is between 9 am and noon. The busiest times are weekends and weekdays from 3:30 pm to 5:30 pm. Click here to view the Farm Show program with details about the event.
Protect yourself while you protect our farms and our farmers. Don't forget to wash your hands after you pet the animals. Wear a mask and social distance when possible. If you're experiencing symptoms of COVID-19, please stay home and join the action online. @PAFarmShow #PAFS22