With July's grilling heat the CVVB staff decided to get out on one of Cumberland Valley's beautiful waterways.  Of course, seeking water adventures in the great Cumberland Valley is no easy task.  The difficult part certainly is not finding a water sport to do; it's deciding which water sport is for you!  With miles of beautiful creeks, several lakes, and the Susquehanna River, water enthusiasts have quite a wide array of activities to choose from.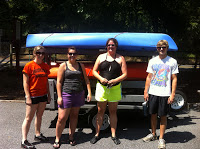 Colonial Crossroads Bed and Breakfast is a year old establishment that offers authentic colonial rooms which provide a cozy stay for just about anyone. Also, did I mention the rooms are so packed with history they can dazzle the minds of even the best history buffs?
Guests staying at Colonial Crossroads have the privilege of adding a kayak package to their stay so they can paddle along the Yellow Breeches and take in a beautiful 2.5 mile stretch of the Cumberland Valley back country.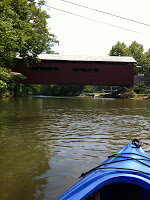 With four kayaks, a beautiful sun-kissed 80 degree day, an ice-cold, spring-fed, world-renowned creek, and a start point within view of a freshly restored covered bridge, who could ask for a better time?  If serenity is your bag of tricks, this is the place for you!  One of my personal favorite parts of the trip was propping up my legs laying back and letting the stream take me as it pleased.  Something about having your head back and hands in the water is just a great escape from the busy lives we all live.
On the contrary to serenity, the CVVB staff never has a dull moment.  Upon arrival, fears of drowning, wrecking and those crazy-rad rapids filled our minds.  After a 5 minute how-to class with Ed, we were off; kayaking experts in our own minds.  Seconds off entry, Ashley was already stuck in the rocks.  Our fears of drowning were quickly replaced with fears of "oh man I don't wanna get out and pull my kayak!"  After a few minutes of casual floating down the creek, we soon realized that those crazy-rad rapids certainly where not in our near future either.  Despite our training course, wrecking was certainly on our agenda.  Kristen and Ashley had the privilege of playing limbo with a few low lying trees.  Katherine took the wrong fork and ended up all alone stuck in a shallow spot.  I even managed to run into just about every big rock I could find.  Topping off the day, we played bumper boats and I got rammed into a concrete bridge before our trip had come to an end.