One of my favorite parts about living in the Cumberland Valley is that I'm close to just about everything. When I had a little visitor staying with me last week, I was able to choose between entertainment options including kid-friendly hiking, biking, movie theaters, bowling alleys, mini golf and more. Since it was rainy, we opted for the Carlisle Sports Emporium, which features an indoor arcade, laser tag, roller skating and tons of fun.


The Sports Emporium does a great job of bringing in games that are fun for everyone. There are single-player, multiplayer, and group game opportunities, making sure that the whole family can be engaged. We opted mostly for games that all three of us could play, with the winner picking the next game each time. We played everything from the arcade games we grew up with like ski ball, air hockey, and Dance Dance Revolution, to new games like Harpoon Lagoon, Grand Piano Keys, and Star Wars Battle Pod.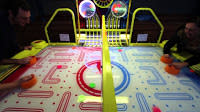 If you go, be sure to play Pac-Man Smash and Lazer Frenzy. Pac-Man Smash is a super air hockey table that accommodates four players. Periodically throughout the game, tons of tiny, multi-colored pucks come flying out on the table and it is complete chaos for the next minute as each player frantically sends them flying back and forth across the table. It gets really competitive!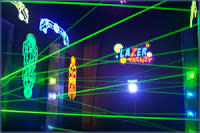 Lazer Frenzy is a brand new game where the players go into a darkened cube. Lazers shoot out from the walls, and each player must navigate through the maze without touching any of the lasers to get to the other side of the cube. There is a TV on the outside of the cube so that any others in your group can watch. My only complaint is that they don't play the Mission Impossible theme song while you duck, crawl and step over the beams of light!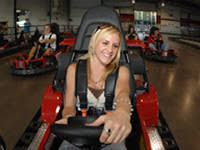 There are tons of other activities at the Carlisle Sports Emporium too. Book a 40-minute session in their huge, two-story laser tag arena, go roller skating on the upstairs rink or reach new heights on their climbing wall. If it's nice outside, try one of two mini golf courses or the indoor and outdoor go kart tracks. Whatever you choose to do, you'll be sure to have a great time!