A couple of months ago I was walking around downtown Shippensburg and happened to walk past an unfamiliar establishment, named Polly and Stone. Hanging from the façade were signs, each with a staple of their menu on it. Tacos. Burritos. Pretzels. Pizza. Nachos. In my head, I was wondering "what kind of magical place has all of this on the menu…I must stop in someday." That someday finally happened a few weeks ago.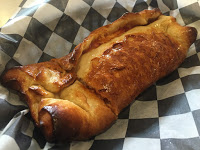 The problem with going to new establishment with a menu where everything looks appetizing, is trying to decide on one thing to order. Since it was early afternoon, I went with a lunch special, boli and a drink (for only $7). The boli was pepperoni with mozzarella and pizza sauce, inside of a pretzel dough shell...all of it was amazing.
Polly and Stone's location along King Street has been open for a little over a year, but they've been around Shippensburg much longer. Known as the "Burrito Man", they had a mobile food truck around Shippensburg, selling you guessed it…burritos. They've been in their current location for a little over a year.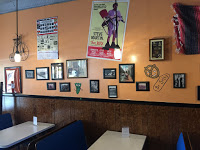 Inside Polly and Stone you'll see unique memorabilia, artwork, and family photographs, which is a testament to the naming of the restaurant. Polly and Stone are the names of the grandparents who inspired the "making food from scratch" approach, along with southwestern influences. You can learn more about Polly and Stone at each table, where you'll find a small display with information on the influential couple and their recipes.
The menu is not only unique, but is founded on the idea of natural ingredients. The meat is even BGH free. I would encourage you to stop in and try the food for yourself. And don't worry if you eat too much, you can walk it off by spending the afternoon in downtown
Shippensburg
.