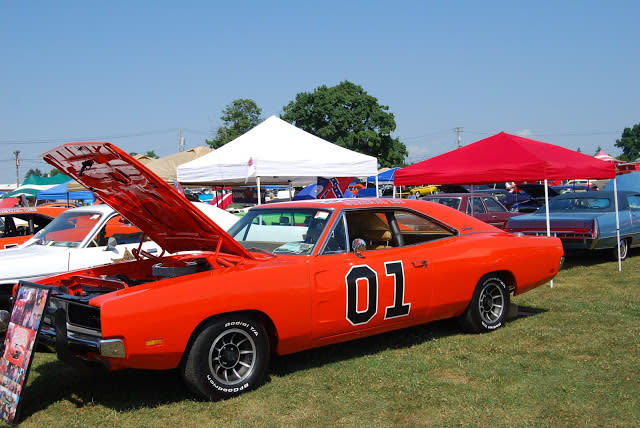 July's event calendar is filled with something for everyone in the family, including fairs, performances, car shows and more! Find the top events for the month of July below...
1.

Carlisle Chrysler Nationals
Welcome to a true Mopar-lover's paradise. There's nothing quite like it anywhere in the world with over 2,100 vehicles from all eras of the Chrysler brand, classics, muscle cars, high-performance new models all converge on Carlisle for a one of a kind weekend. You need to be here for the enormous showfield that is organized by year, make and model, special indoor displays, activities for the kids, industry guests, special prizes and NHRA drag racing. Interested in parts buying? Look no further! You'll be amazed at the size of the swap meet, the variety of vendors, the car corral, and the Manufacturers Midway. Whether you prefer the A, B or E body style – this show has it all!


Date: July 15 to July 17, 2016 • Time: 7:00 AM to 6:00 PM: closes at 3:00 PM on Sunday 
Location: Carlisle Fairgrounds
Address: 1000 Bryn Mawr Rd., Carlisle
Phone: 717-243-7855 • Website: www.carlisleevents.com
2.

59th Annual Shippensburg Community Fair
Come and celebrate the rich heritage of our community and learn about the importance of agriculture, Pennsylvania's number one industry! Join us during the 59th Annual Shippensburg Community Fair for lots of food, fun, entertainment and more. The Fair features events that bring town and country together, including livestock exhibits, home products, tractor pulls, horse shows, rides and games for all ages!
Date: July 25 to July 29, 2016 • Time: 4:00 PM to 10:00 PM
Location: Shippensburg Fairgrounds
Address: 10131 Possum Hollow Road, Shippensburg
Phone: 717-532-8911 • Website: 

ww.shippensburgfair.com
Summerfair originated in 1978 and has continued ever since with its commitment to provide the community with family-friendly events offered at no cost. This year's Summerfair offers 30 events over 12 days. Major events include: 
Swing Dance Lessons and Open Swing Dancing at The Green Door Studio', 
S
ummerfair Musical at the Carlisle Theatre, 
Outdoor Movie, Fireworks, Anything Floats, and a performance by the Harrisburg Symphony Orchestra.
Date: Now through July 4, 2016 • Time: Check website for details
Location: Throughout Carlisle
Website: www.carlislesummerfair.org
The Last Five Years, a musical written by Jason Robert Brown opened in Chicago in 2001 and was produced off Broadway in 2002. Time Magazine listed the show as one of the 10 best shows of 2001. The Last Five Years is an emotionally powerful and intimate musical about two New Yorkers in their twenties who fall in and out of love over the course of five years. The story explores the relationship between Jamie Wellerstein, a rising novelist, and Cathy Hiatt, a struggling actress. Cathy's story is told in reverse chronological order beginning at the end of the marriage; Jamie's story is told in chronological order starting just after the couple first met. The characters do not directly interact except for a wedding song in the middle as their timeless intersect.
Performance Dates: July 8, 9, 14, 15, 16, 22, 23 @ 8:00 PM; July 17 and 24 @ 2:30 PM
Date: July 8 to July 17, 2016 • Time: Thursday, Friday & Saturday @ 8:00 PM; Sunday @ 2:30 PM
Location: Little Theatre of Mechanicsburg
Address: 915 South York Street, Mechanicsburg
Phone: 717-766-0535 • Website: www.ltmonline.net
5.
Music on the Mountain
Join us at the Mansion for Music on the Mountain with blues & jazz artist Erica Lyn Everest from 3 pm to 5 pm and classic rock group, Second Time Thru, from 5:30 pm to 7:30 pm. Come to picnic and listen to the music while viewing the vast Cumberland Valley from the mountain top. Food vendors are available.
Date: July 3, 2016 • Time: 3:00 PM to 7:30 PM
Location: Kings Gap Environmental Education Center 
6.

Blithe Spirit
The smash comedy hit of the London and Broadway stages, this much-revered classic from the playwright of "Private Lives" offers up fussy, cantankerous novelist Charles Condomine. Charles is a successful and apparently happily married novelist. In order to conduct research about the occult, he and his second wife, Ruth, invite an eccentric medium, Madame Arcati, to conduct a seance at their home, assuming she will be a fraud. But, Madame Arcati's ability to connect with the dead is genuine and she inadvertently summons a ghost from Charles's past -- Elvira, his first wife, who has been dead for seven years. Charles is now haunted (literally) by the ghost of his late first wife, the clever and insistent Elvira. 
Date: 
July 8, 2016 to July 24, 2016
• Time: 
Thursday, Friday & Saturday at 8:00 PM; Sunday at 2:00 PM 
Location: Oyster Mill Playhouse
Address: 1001 Oyster Mill Road, Camp Hill
Phone: 717-737-6768 • Website: www.oystermill.com
When Billy Crocker discovers that his heart's desire, debutante heiress Hope Harcourt is engaged to an English aristocrat, he stows away aboard the S.S. American to win her back. Aided by a string of eccentric passengers on board the luxurious transatlantic liner, can this web of love be untangled before they reach Southampton?
Date:
June 30 to July 3, 2016 •
Time:
 See website for performance time
8. First Fridays in Downtown Mechanicsburg
Come to downtown Mechanicsburg and celebrate the start of the weekend with our First Fridays. First Fridays are the First Friday of the month from 6pm – 9pm all throughout the year. Get to know our downtown area businesses. Enjoy food, art, live music, dining, specials and downtown shopping at its finest. There is plenty of free parking along the street and in the Municipal Lot on Strawberry Alley between Frederick and N. Market Streets. Please join us!
Date: July 1, 2016 • Time: 6:00 PM to 9:00 PM
Location: Downtown Mechanicsburg
Address: Main & Market Streets, Mechanicsburg
Phone: 717-441-3839 • Website: http://downtownmechanicsburg.com/events/first-fridays
Gather your friends and family, grab blankets or lawn chairs, and join the Harrisburg Symphony Orchestra for a free summer concert at Negley Park. 
Date: July 2, 2016 • Time: 8:00 PM
Location: Negley Park
Address: Indiana Ave, Lemoyne
Phone: 717-545-5527 • Website: www.harrisburgsymphony.org
10.

Pennsylvania Speedweek Mitch Smith Memorial and Fireworks
Visit Williams Grove Speedway for some of the best 410 Sprint Car racing in the country. Since 1939, race enthusiasts have been enjoying dirt track racing from March to October on the 1/2 mile banked clay oval track.
Dates: July 1, 2016 • Time: 8:00 PM 
Location: Williams Grove Speedway
Address: 1 Speedway Drive, Mechanicsburg