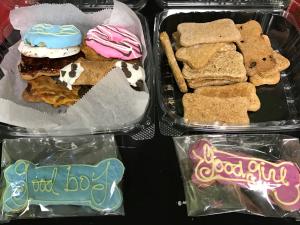 Don't forget your four-legged friend this holiday season! Doggie Delights is located at the West Shore Farmers Market in Lemoyne. Doggie Delights Bakery and Boutique uses fresh, all natural, wholesome ingredients to bake dog treats your best friend will love. They also have no added sugar, salt or preservatives.
From mini pizzas and whoopie pies to cannoli and breakfast bars, these treats will keep your puppy happy and wanting more. Holiday flavors include turkey, cranberry crunch, fruitcake, sand tarts and iced cookies in all shapes and sizes.
To win: Like, share or comment this post on our Facebook page or retweet this link on Twitter. 
Learn more about the Cumberland Valley Gift Guide Contest by clicking here.