Catching up with old friends is always a treat, especially when you do it over a meal. It combines two necessities in life - food and fun. We chose Isaac's since neither of us had been there before. We were slightly perplexed by the random bowl of pickled veggies that arrived at our table (think cauliflower, pickles and carrots), but loved the little dish of Tortellini Salad with Almond Pesto we ordered as an appetizer.
We both ordered the same thing because it looked so good - the Magpie. It had all of my favorites wrapped into a flat bread - chicken, pesto, bacon, spinach and cheese...yum! Of course we had to get dessert. The Chocolate Peanut Butter Pie had real peanut butter cups in the crust!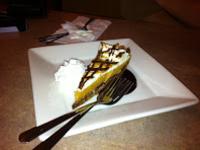 Some of the other items Isaac's is known for include soups, salads and sandwiches of all kinds. Nearly every menu item has a bird name. Don't expect to find fries, onion rings or other oh-so-delicious but bad-for-you items, the sides menu includes baked chips, salad, vegetables and applesauce. You won't feel so guilty about dessert when you eat these items!