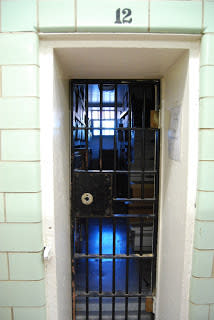 Halloween may be over, but the frights continue in the Cumberland Valley! On November 4
th
, SyFy's hit television show Ghost Hunters will air an episode from the
Old Cumberland County Prison
in historic downtown Carlisle.
The episode was filmed last year after representatives from Ghost Hunters contacted the Cumberland Area Economic Development Corporation and inquired about the courthouse. Through the help of the Cumberland County Commissioners and the Cumberland County Historical Society, we were able to make that work.
The Old Cumberland County Prison is a castle-style building designed by Philadelphian architect Edward Haviland. The building was operated as a prison from 1854-1984 and is now used for county offices. The building is not a public building, however visitors can check it out along East High Street in Carlisle. 
Whether you're "into" the spiritual stories and supernatural experiences on Ghost Hunters or not, it will be interesting to see what they find and to watch a Cumberland Valley landmark featured on the show. The history of Carlisle will definitely be brought to light in this episode. You can learn more about the prison and Carlisle's history at the 
Cumberland County Historical Society
.
The show airs November 4th at 9 pm on SyFy.