Eating a gluten-free diet can be challenging, especially if you're on the go or away for the weekend. Luckily, more establishments are catering to the needs of those who are not able to or wish not to eat food containing gluten. There are many gluten-free options in the Cumberland Valley for every meal of the day, and even specialty grocery stores.
Breakfast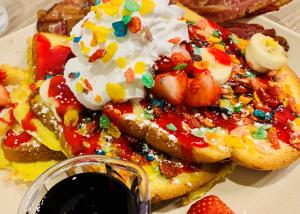 Valley Bistro, which is open for breakfast and lunch and located right off I-81 in Enola, offers tasty gluten-free options including pancakes, French toast, and cannoli. One of their more unique items is the Fruity Pebble French Toast, which layers on fruits like strawberries and bananas in addition to Fruity Pebbles cereal. Since Fruity Pebbles is one of the few gluten-free kinds of cereal, this combo can also be made gluten-free. Valley Bistro's menu also offers a number of vegetarian options, and its lunch menu includes gluten-free bread, wraps, ciabatta rolls, and flatbreads.
Other notable breakfast options:
Cornerstone Coffeehouse in Camp Hill (gluten-free toast, sandwiches, and pastries).
Grazery in Carlisle (open for breakfast and lunch, GF bread as a substitute).
Lunch and Dinner
If you're looking for steak, salad, or seafood, you're mostly in luck with or without gluten. However, if you're looking for a burger or sandwich, you might have to look a little harder. Here are some places with specialized gluten-free menus.
Flinchy's in Camp Hill not only has a special gluten-free menu but dedicated kitchen space to gluten-free cooking. Flinchy's offers GF pizza, apps, soups, pasta, and even dessert.
North Hanover Grille in downtown Carlisle is known for having some of the best burgers in the Cumberland Valley, which is great because they offer GF buns. In fact, their menu says nearly any dish can be made gluten-free. Their extensive drink menu also includes ciders, most of which are gluten-free.
The Pizza Grille has three different locations in the Cumberland Valley (Lemoyne, Camp Hill, and Carlisle) and all three serve their many varieties of pizza on gluten-free crusts.
Chalit's Thai Bistro, located in Mechanicsburg, features a number of items that can be made gluten-free upon request, like the Thai Stir Fry, Pad Thai, and Fried Rice.
Drinks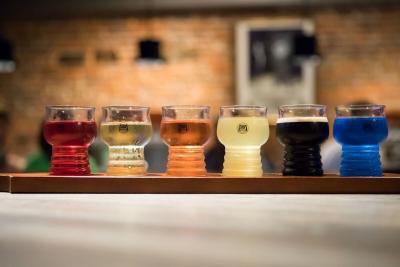 Looking to indulge in some spirits or even want to experience the Cumberland Valley Beer Trail? While I'm unaware of any GF-beer produced in any of the craft breweries in the Valley, there are places to order ciders or other spirits. Grand Illusion Hard Cider specializes in ciders that they either produce themselves or have on tap from other producers (Grand Illusion also offers a number of GF flatbreads, salads, entree options). Some other places to find GF drinks along the Beer Trail include Brewhouse Grille, Appalachian Brewing Co., Mellow Mink Brewing,  Desperate Times Brewery, Hook & Flask Still Works, Molly Pitcher Brewing Co., Millworks, The Winery at Long Shot Farm, Pizza Boy Brewing, Dead Lightning Distillery, and Ever Grain Brewing Co.