I regularly practice yoga and I have been reading about goat yoga for several years now. I jumped at the opportunity to participate in a class at Goat Yoga PA. The combination of goats and yoga allows participants to experience a form of animal therapy that is said to relieve stress and elevate your mood.
The class was held on a Saturday afternoon in the field of an 8-acre farm about a 10-minute drive from downtown Carlisle. There was plenty of room for parking. The weather was perfect and a tent was set up to shield guests from the sun. After setting up our mats, the goats were brought over and introduced to the group of about 25 participants. (There was a fence around the tent so the goats could not escape.) There were 3 or 4 adult goats and 3 or 4 kids. The youngest one was 9 days old and the most precious little creature.
The 2-hour session began with one-hour of yoga followed by snuggle time with the goats. The instructor did a great job of staying focused and leading a yoga class where the students spent more time "oohing and aahing" over the goats than doing the moves.
During class, helpers came around to put food on your mat to encourage the goats to explore among the class. Most of the goats stayed along the end of the tent by the fence and later one of the helpers noted that they were less active than usual because they weren't accustomed to the warm weather yet. However, that didn't stop them from walking around and seeing everyone. Listening to the sounds of nature and feeling the goats next you as you are in downward dog or child's pose is a unique and not-to-be-missed experience.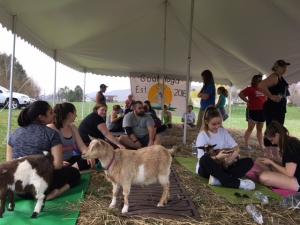 After the hour-long class, you are welcome to sit on your mat and helpers will come around to take your picture while you pet and snuggle with your new furry goat friends.
If you decide to participate in this fun activity, here are some tips on how best to enjoy your day.
Bring a friend or two. You will have more fun with a group.
Don't worry about having any prior yoga experience. Yoga was mostly an optional part of the experience. During my class, many participants spent most of their time sitting on their mats petting the goats. That being said, if you are an experienced yogi and are looking for a focused class, this might not be for you.
Don't bring your best yoga mat or wear your nicest yoga outfit. You will be set up in a field with hay and dirt. You will leave with hay and dirt on you.
Goats will occasionally go to the bathroom on your mat. There were helpers available to wipe it away and to wash down you mat. Just let nature happen.
For those with long hair, consider putting it up in a ponytail or bun. And don't bring in any small items. Remember that goats like to nibble.
If you are interested in trying out this fun and unique experience, be sure to check the Goat Yoga PA website for class times and to make a reservation.