Explore the scenic back roads of Cumberland Valley and visit
Meadowbrooke Gourds
- the
largest gourd crafting company in the world. Take a step inside their showroom and you'll be greeted by hundreds of gourds waiting to be taken home. There are gourds for each season and holiday, gourds that are useful and gourds that are decorative, gourds that light up and gourds that hang, and gourds, gourds, gourds, in between.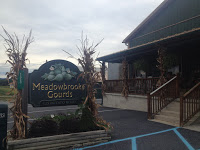 So what is a gourd? It's like a pumpkin, but with a hard shell. Each June, 20-25 acres of gourds are planted, hand-pollinated in July, cut off the vine after the first frost and dried in the fields over the winter. In the spring, the gourds are collected and put into storage or washed. Washed gourds begin the cycle of being turned into something more. The gourds are sorted, then cut, burnt, dyed, painted and accessorized.
The end result of the gourd crafting is an impressive array of whimsical animals, bowls, luminaries and more lining the shelves of the country showroom. Popular gourds include the Casper Jack in the fall, the Meadowbrookes in the winter, Easter baskets and eggs in the spring and Jessie and Alice (see below) all year round. Semi-finished gourds can be purchased to create-your-own, and a local artist corner has one-of-a-kind pieces. Raw gourds from the storage area and gourd seeds are also available in all shapes and sizes.
Meadowbrooke Gourds' staff of 20 creates 3,000 gourds a week. About 75% of these gourds are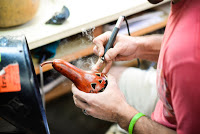 sold wholesale, traveling all over the world to destinations including Italy and Japan. The rest of the gourds are sold through direct online sales, at events and at the showroom. The gourds have quite a following, and have been featured on PCN two times and Mike Rowe's Dirty Jobs. The annual Easter Egg Hunt sold out in just 10 minutes last year!
If you're planning to visit Meadowbrooke Gourds, check their event calendar first to see a list of upcoming tours, classes and events. Mark your calendar for Spring Fest, Summer Celebration, Fall Fest and Winter Gala where you can enjoy
Oops! sales
,
create-your-own gourds
and other activities depending on the season.
Tours
are also offered every Tuesday, giving you a chance to see gourd creation behind-the-scenes.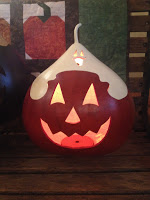 Casper Jack
Alice
The Meadowbrookes
Professor Owl
Jesse