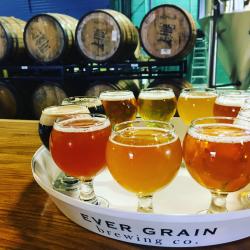 I finally made a visit to the newly opened Ever Grain Brewing Co. in Camp Hill. Whenever my husband and I check out a new brewery we always try a flight to find our favorite. You can get a flight of 4, 10 or 11... so we went with 11! I really like that they have a variety of options and types of beer on draft. The two stand outs for me were the Hellyes and the Lucie. For starters, Hellyes is a great name for a beer, but it was also a nice and easy-to-drink lager. The Lucie was surprisingly sweet and the description said it's made with Belgian candi sugar which made it tasty and different.
Ever Grain Brewing Co. also has a great food menu made available by Our Kitchen Table. This catering company is the exclusive food provider for Ever Grain and you can order through the handy window and select comfort dishes like fried chicken sandwiches, smoky wings, mac and cheese, burgers, beef bbq and more.
This is a great spot to bring friends or family. The place is big and open with a lot of tables and a long bar to sit at. A lot of people had brought their children and they were playing at the ping pong table, with the giant Connect 4 board and with the corn hole boards.
I would definitely recommend trying out Ever Grain and if you're looking to check out all the breweries in the area follow the Cumberland Valley Beer Trail.