Dukes Bar & Grille
last night in Wormleysburg for the first time and it was amazing! I have been to Dockside Willies a few times and kept going back because the food was so good, but I'm glad I made the decision to try out Dockside's next door neighbor.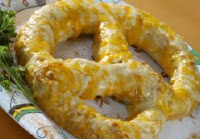 Dukes' outside dining area is huge and we got a great table facing the river. I have heard about the Maryland Crab Pretzel appetizer so I had to try it. Not only was it delicious but it was so big. (Not your normal soft pretzel size at all) Although I did not need it, I ordered the Santé Fe Salad which was also really good and served in a homemade crispy flour tortilla bowl. I would definitely recommend Dukes to anyone that is looking for a unique atmosphere and something different.
Next I need to try RockBass Grill, anyone have any suggestions?