Harrisburg Beer Week (HBW) debuted in 2015 as the brainchild of four women with a passion for craft beer. Celebrating its 5th anniversary in 2019, HBW remains true to its core mission of celebrating the local beer scene with more than 100 beer-focused events and demonstrations at area restaurants, pubs, and breweries scheduled from April 26 to May 5. Highlights include a VIP kick-off party; PA Flavor, a unique food and beer sampling event; and Battle of the Homebrewers.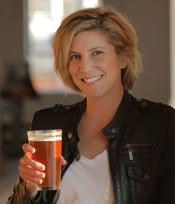 Photo Credit: GK Visual
Here, Sara Bozich, sponsorship liaison and media relations with HBW, provides some insight into what to expect for 2019. 
1. For those who are not familiar with Harrisburg Beer Week, can you tell us a little bit about what to expect?
Harrisburg Beer Week is a 10-day event series filled with a variety of beer-focused events, from festivals to tap takeovers, It's region-wide, from Carlisle to Harrisburg to Hershey. It celebrates our local craft beer community, and proceeds from the event benefit Harrisburg River Rescue & Emergency Services.
2. For those who have previously attended Harrisburg Beer Week events, what's new in 2019?
Each your our 717 Collaboration Beer is something new -- and we're really excited about this year's brew. It will be available for a limited time so be on the lookout for it once its available! When you have one, be sure to share on social #BeerForGood and #717Collab.
3. What are some tips you can offer to attendees so they can enjoy as many events as possible?
Look for one of our Event Guides in April, grab a highlighter and a friend, dive in to find out what events interest you the most, and make a plan! Of course, we're lucky to live in the ages of Uber/Lyft and safety is our number one concern, so we encourage the use of these ride-sharing apps and designated drivers.
4. Is there a cost to attend Harrisburg Beer Week events?
It depends! Many Beer Week events are free to attend. Our signature events are ticketed and highly sought after, so you'll want to scope those first. They include the VIP Party (4/26), Battle of the Homebrewers (4/28), Little Big Beer Fest (5/4), and Mini Golf Tournament (5/5).
5. Where can attendees purchase Beer Week merch?
Harrisburg Beer Week merch is available at PA Flavor, Battle of the Homebrewers, Little Big Beer Fest, and select other locations throughout Beer Week. Check our website for the updated list as we head into the week.
Your support -- whether through sponsorships or merchandise sales -- has helped HBW donate $120,000 to Harrisburg River Rescue and Emergency Services since 2015.
To find out more about Harrisburg Beer Week and see a complete list of events, click here.