I recently worked the Cumberland Valley Visitors Bureau booth at the Plein Air Arts Festival and Competition in Camp Hill. Before arriving for my day outside I stopped by Cornerstone Coffeehouse for a quick breakfast to-go. I ordered the tomato and hummus special on a whole wheat bagel. It was so yummy, it was hard to believe it was good for me.
Hummus usually lacks in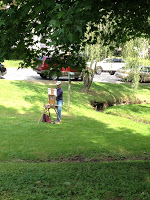 taste but this kind was very tasty and even had a little kick to it. I also got a small cup of raspberry cream coffee which was also delicious. It was a beautiful day for the Plein Air festival. We were right by Willow Park in downtown Camp Hill and the artists did not have trouble finding inspiration for their paintings. Did anyone else attend this event?