Last night I decided to skip the gym and take my workout outside since it was such a beautiful day. Opossum Lake proved to be a fantastic alternative!  I expected the 4-mile trail to leisurely wind me along the recently refilled 59-acre Opossum Lake, but what I got was easy to moderate hiking through the woods, fields and lakeside access points surrounding the lake with glimpses of the lake never too far away.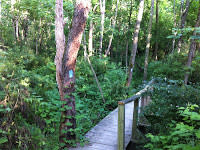 Besides hiking, the lake is also suitable for fishing (bass, bluegills, muskellunge, crappie and trout), kayaking, picnicking and wildlife education.  There are signs along the trail pointing out different areas of interest, including a beaver habitat, hardwood forest, prairie and wetlands.  Trail maps located at kiosks around the trail give you a guide for identifying fish, animals and plants commonly found along the trail.  A small portion of the trail and one of the fishing docks is handicapped accessible, ensuring everyone can enjoy the lake.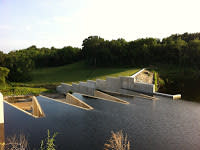 A view of the dam.
While there, I heard a woodpecker and saw many birds, frogs and bunnies along the trail.  I think my favorite part was a section where honeysuckle has completely taken over (it's an invasive species), leaving a sweet aroma in the air.

If you go, be sure to take along sturdy sneakers or hiking shoes, a bottle of water and bug spray!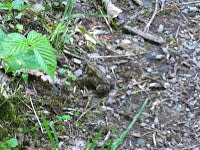 Can you spot the frog?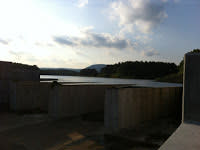 The spillway behind the dam.