Cumberland Valley is an outdoor enthusiast hotspot, with a variety of hiking trails spread throughout the area that range in both length and level of difficulty. Hiking is a great way to enjoy the outdoors with friends or family, but also an excellent form of exercise. Keep up the fit lifestyle by including some healthy snacks and meals in your stay.
Hiking
The Cumberland Valley is home to over 200 miles of trails. Below are a few suggestions along with options to grab a nearby, healthy bite to eat. Find more about all our hiking trails, or pick from our Top 10 Hikes. 
Easy - If you're looking for a leisurely outdoor hike head to the Cumberland Valley Rail Trail. This 13-mile trail connects Newville to Shippensburg. It's a nice flat surface with great signage on the area's history and agricultural significance. Plan to finish in Shippensburg and re-energize with lavender lemonade and vegetarian quiche at Art of Pie Cafe.
Moderate - Kick it up a notch with a hike along the famed Appalachian Trail in Boiling Springs. Before or after, Vitality Bowls in nearby Mechanicsburg features antioxidant-rich menu items such as açaí bowls, smoothies, made-to-order raw juices, and salads. 
Difficult - For a real challenge, try some of the trails at the 913-acre Mount Holly Marsh Preserve. Difficult terrain options include rocky climbs and steep spots through wooded areas. Re-energize with the grilled salmon and a house salad at Cassell's Grille.
Places to Grab Healthy Snacks
Before heading out to hike, pick up a few healthy snacks at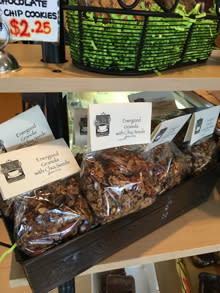 Cornerstone Coffeehouse in Camp Hill. They make their own granola, trail mix cookies, sports bars, and delicious salads to go like the popular super protein salad with quinoa, edamame, chickpeas, roasted pumpkin seeds, and more. Nearby, the West Shore Farmers Market sells fresh seasonal produce, cheeses, and more.
Enjoy a Healthy Lunch or Dinner
After a day in the outdoors, relax with a delicious lunch or dinner that won't undo all your hard work. Healthy, and tasty, options can be found at the following restaurants. Browse all your options or stop by the numerous roadside stands and small farmers' markets that dot the landscape to pick up the freshest and tastiest seasonal ingredients to make a meal at home.
Hellenic Kouzina Greek Cafe - This local hotspot offers tons of Greek favorites. Keep it healthy with the chicken skewers or filling Greek Salad.
The Pizza Grille - It's hard to believe a restaurant with the word pizza in the name could be healthy, but this spot offers delicious chopped salads with a variety of flavor combinations including Feta & Sun-Dried Tomato and Fruit & Nut. 
Cafe Magnolia - Try one of the most popular menu items, Jess's Favorite Salad in the Whole World, for a healthy boost including almonds, strawberries, and coconut-encrusted chicken.  
The Healthy You Cafe - Choose from a number of healthy options including grain bowls and tasty flatbreads. Many menu items are vegan, vegetarian, or gluten-free.
The Grazery - Delicious menu items based on healthy Greek and Mediterranean recipes.
Playa Bowls - If you not looking for a full dinner, head to Playa Bowls where you can choose healthy treats from a menu that includes açaí bowls, pitaya bowls, coconut bowls, chia, oatmeal, smoothies, juices & more!