My go-to location in Cumberland Valley for hiking are the trails at Kings Gap. But one of my goals this summer is to try to explore many of the other hiking trails in the Valley. First up, the Appalachian Trail.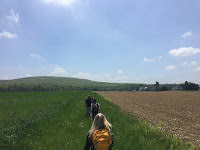 The A.T. is not just for thru-hikers. It is ideal for a day hike as well. If you don't know where to begin, be sure to stop at the
Mid-Atlantic Appalachian Trail Conservancy
in Boiling Springs. Their helpful staff will give you tips and point you in the right direction. Our group decided to head over to Leidigh Road and hike up to
Center Point Knob
. There is parking on the shoulder along Leidigh Road, but no official parking lot. The hike starts through a field and then heads into a wooded area and up a gradual incline. I was surprised to find that the trail was very narrow requiring you to walk single file if you are with a group.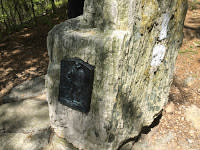 It took us about 45 minutes to reach Center Point Knob, where we found a replica of the plaque that marked this location as the original halfway point of the A.T. (The original plaque can be found at the
Appalachian Trail Museum
in Gardners.) Our group spent some time enjoying the cool breezes and the view and then headed back down the trail to complete the 3-mile roundtrip hike. A few words of advice before embarking on even a short hike: tell someone where you are going, dress appropriately, carry a fully-charged cell phone, carry food and water, and stay on the trail. Most of all, enjoy yourself and your surroundings.
-Stacey