Chris joined us after he got off work and we had such a great time that we actually stayed out past Cole's 7pm shower time!  If you asked any of our friends or family... this is a pretty big deal for us because we're sticklers on the 8pm bed time! There were about 10 rides (race cars, motorcycles, a burlap sack slide, lady bugs, etc) appropriate for a tall 2 year old... height requirements between 32 and 36 inches... and only one ride that he wanted ride and was too short.... and then the end of the evening was a father and son Ferris Wheel Ride (mostly because I cannot stand rides like that, LOL).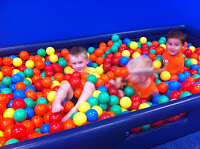 The next night, Friday, was also a late night for us because we had a party to go to.  This party was for 
Cole's friend, 
Ben (3 years old),  from his Busy Bees class.  The party was at
My Gym
, a fantastic kid's venue that has weekly classes, free plays, and the ability to do private parties.  I had never been there before and it was a great experience! The teachers were very friendly and played games with the kids as well as assisted the parents in facilitating the free play time.  
Oh yeah... and Saturday afternoon, Cole and I waited patiently for his dad to get home... and then attacked with our brand new (dollar store) squirt guns! What a great way to keep the fun going!!